Empire Falls
(2005)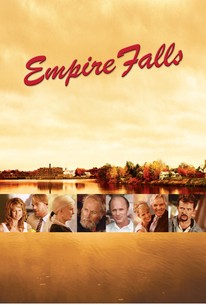 AUDIENCE SCORE
Critic Consensus: No consensus yet.
Movie Info
This two-part HBO miniseries is based on the Pulitzer Prize-winning novel by Richard Russo. Having long since sacrificed youthful ideals and values to remain in his New England hometown for the sake of his family, middle-aged Miles Roby (Ed Harris) finds his "secure" little world disintegrating when his wife, Janine (Helen Hunt), divorces him. Equally vexing is the emotional and financial pressure exerted by domineering town matriarch Francine Whiting (Joanne Woodward), who owns (among other things) the Empire Grill, the little diner that Ed has run for several years. As he reflects on what he considers to be a wasted life, Ed flashes back to memories of his curmudgeonly father, Max (Paul Newman, who also executive-produced the miniseries); his long-dead mother, Grace (Robin Wright Penn); his scapegrace brother, David (Aidan Quinn); his blossoming daughter "Tick" (Danielle Panabaker); and Francine's late husband, C.B. Whiting (Philip Seymour Hoffman). Also tied in with Miles's reminiscences is the spectacular saga of the rise and fall of Empire Falls, a once-prosperous mill town that has fallen into disrepair -- as have the town's once-rigid and inviolate social barriers. Despite the initial bleakness of Miles' plight, and the revelation of innumerable family skeletons as the plot progresses, the story is ultimately both heartwarming and life-affirming. Filmed on location in Maine, Empire Falls originally aired on May 28 and 29, 2005.
Critic Reviews for Empire Falls
Audience Reviews for Empire Falls
½
It is probably not that historical, but it is interesting to see this version of the current state of small-town Maine. The mill is empty and everyone has left. All there seems to be left is a diner, a pub and a church that needs painting. This movie is chalk full of name actors, and revolves around the life of Miles Roby (Ed Harris). The actors do a great job, and the story is laid out well (although the movie is four hours long). If you like plain stories of how people interact and deal with the life's trials and tribulations, you will like this movie.
½
By far, this is one of the best mini-series i've ever seen. It has a great cast, great story and a thematic quality to it. The idea to make the town more of a main character than any particular person is such an interesting way to go, it makes it feel like a Stephen King novel without any scary or supernatural elements to it. I feel like there was a complete story and non of the characters were not given a full treatment.
Conner Rainwater
Super Reviewer
½
This film casted the leads solely based on star power. As such, the only non-phoned-in performances were from supporting players - Penn, Burton, Parsons, Farina - and young unknowns, Pucci as John Voss, and especially Danielle Panabaker as Tick. Terrible accents all around and what was with the lame Our Town-y narration?
Alice Shen
Super Reviewer
Empire Falls Quotes
There are no approved quotes yet for this movie.