Empire Records
(1995)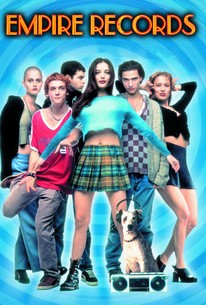 TOMATOMETER
AUDIENCE SCORE
Critic Consensus: Despite a terrific soundtrack and a strong early performance from Renee Zellweger, Empire Records is mostly a silly and predictable teen dramedy.
Movie Info
A funky little record shop provides the setting for this youthful comedy that centers on the workers there as they try to help poor Joe Anthony LaPaglia), the manager who really wants to buy the place, recoup his losses after his well-meaning, but dim-bulbed employee Lucas (Rory Cochrane ) steals his savings and loses it all in Atlantic City while trying to increase it twofold at the gaming tables. If they cannot come up with the loot, the mega-chain Music City will buy it.
News & Interviews for Empire Records
Critic Reviews for Empire Records
Audience Reviews for Empire Records
Love this movie. It's definitely one for those who were around in this decade, though. I don't think teens today would necessarily love it. It's a bit silly, sure, but great soundtrack, great cast. Rex Manning is hilarious. Best role for Renee Zellweger and Liv Tyler. And very young Brandon Sexton. Wish I could have worked in such a great store back in the day!
Nicki Marie
Super Reviewer
½
Empire Records is a great comedy. The story is quite simple, yet kit works. This film is fun from start to finish. This is a comedy that stands out, and is still a film worth seeing again and again. The cast do a great joke, and their characters are likeable. Empire Records is one of the best Teen comedies that I've seen. There are some very good comedic elements that make this comedy stand out among others in the genre. I felt that this film was underrated, and it didn't deserve all the negative reviews it has received. This is a classic film, one that remains relevant over a decade after its release. The cast is wonderful, and though flawed Empire Records works well enough and is much better than most teen comedy flicks of today. This is a fun film to watch, one that is well crafted and with a cast of talented actors, it really makes this one a stand out film. I thought that this film was very entertaining from start to finish. Empire Records deserves much more praise than it received. This film proves once again that mainstream critics are too quick to judge. This film is good, with gags, a good story and really stands out. If you love a smart teen comedy, Empire Records is the one. There's some stand out moments in this film, though far from the teen comedies of the 80's, Empire Records is still a film worth seeing. Very enjoyable and original, this film is much better than most of teen comedies of today. A much underrated gem, Empire Records is great entertainment despite its flaws.
½
"Damn the Man! Save the Empire!" The employees of an independent music store learn about each other as they try anything to stop the store being absorbed by a large chain.
REVIEW
The theme of Empire Records is the struggle of man against the greed of the corporate machine. Empire Records is an independent music store that is very lax with its employees, offers many different genres of music, and in general offers a very artistic environment for its customers. The owners of Empire wish to sell out and make Empire into a chain store. Joe, played by Anthony Lapaglia, is the store manager who takes an employee named Lucas, played by Rory Cochrane, under his wing. Together with the other misfits that work at Empire, they try to figure out a plan to save Empire from turning into a dreaded Music Town while dealing with their own personal problems on one very eventful day at the store. Other important issues that are addressed in this film include depression, Debra (played by Robin Tunney) cuts all of her hair off and tries to slit her wrist, drug addiction, Corey (played by Liv Tyler) is the perfect student who occasionally takes speed to help her stay awake to study, and risky sexual behavior, Gina (played by Renee Zellweger) thinks she will feel better about herself and find love by sleeping around. Two techniques used in this movie to demonstrate the theme were sound and lighting. The soundtrack of the film is very diverse and alternative which can be compared to the environment of Empire Records. Empire is not your typical music store and the music they play there is not always the most well known. The lighting of Empire can be considered dim and a little hazy at times, which compared to the harsh fluorescent lighting found at a chain store, gives Empire Records an even more unique feel.
Lorenzo von Matterhorn
Super Reviewer
Empire Records Quotes
| | |
| --- | --- |
| Mark: | *Answers the Phone* Mark: Empire Records, open 'til midnight, this is Mark (pauses) Midnight |
| Mark: | [Answers the Phone] Empire Records, open 'til midnight, this is Mark. [pauses Midnight. |
| | |
| --- | --- |
| Warren: | Who glued these quarters down? |
| A.J.: | I did. |
| Warren: | What the hell for, man? |
| A.J.: | I don't feel that I need to explain my art to you, Warren. |
| | |
| --- | --- |
| Joe: | Who knows where thoughts come from. They just appear. |