Empire State
(2013)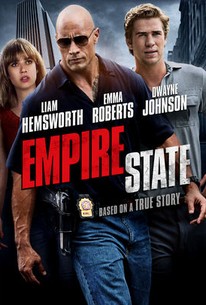 AUDIENCE SCORE
Critic Consensus: No consensus yet.
Movie Info
A pair of old friends scheme to rob an armored car company with a cop hot on their tail in this crime drama from director Dito Montiel. Liam Hemsworth and Dwayne Johnson star in the Emmet/Furla Films production. ~ Jeremy Wheeler, Rovi
Critic Reviews for Empire State
All Critics (2) | Fresh (0) | Rotten (2)
Despite being based on a true story, Empire State is nothing but a bland and predictable tale that completely lacks originality.
Montiel's worked through this type of tough guy material before, yet there's still no sign of creative growth. Maybe it's time for the filmmaker to move out of New York City and see what the rest of the country is up to.
Audience Reviews for Empire State
Based on a true story. Very good film! I was pleasantly surprised, at no point was this film hard to watch or boring to me, just an OK thriller like many others that is worth watching even if it's not blowing your mind away. The movie does an excellent job of capturing that 80's New York feel. The actors all play their parts well and speak with appropriate accents.The movie has a really good script and the director gave his best to create scenes and pace that keep your adrenaline and interest in high levels. After failing to get into the police academy, Chris Potamitis (Liam Hemsworth), settles for a security guard job with the EMPIRE STATE Armored Truck Company. Chris makes the mistake of mentioning the company's lax security to his best friend, Eddie (Michael Angarano), and is soon unwittingly drawn into an elaborate scheme to rob the abundant amounts of cash being stored there - resulting in the largest cash heist in U.S. History. As the stakes continue to rise, Chris and Eddie must outwit James Ransone (Dwayne Johnson), the veteran NYPD Detective that is hot on their trail, as well as the local crime bosses that want to know who pulled a job on their turf, or suffer the consequences.
½
A riveting crime-drama. A strong, tough, confident and surprisingly engaging piece of work from Director, Dito Montiel who brings his own style of mean street intensity to everything he does. Montiel gets you involved with these characters and makes you invest in them and shows a gritty and bittersweet reality to add depth to this true story. His most gritty film since A Guide to Recognizing your Saints. Liam Hemsworth is sensational, the young Australian actor brings great energy and heart to his performance, showing that in time he will be a very promising and dynamic star. Dwayne Johnson is terrific, he gives a tough and strong performance. Johnson just nails the role of this detective and you actually feel like he is a cop. The film gives some rather satisfying and really good performances.
Imagine my surprise seeing a film that stars Dwayne Johnson, Liam Hemsworth, and Emma Robert together that went straight to DVD. Even more odd is despite Dwayne Johnson being in the center of all the posters and DVD covers Liam Hemsworth is the actual star. A bad sign showing fear from the film studio lack of faith in Hemsworth star power. Although the quality of the film is more of an issue than Liam Hemsworth star power. Empire State is a drama centered on two childhood friends who plan to rob an armored car depository, and the NYPD officer who stands in their way. The plot of the film is mostly deadweight. Granted on paper the true story sounds interesting except in execution it diminishes any intrigue. Before we get to the actual robbery the film attempts to develop the characters. The development we're given is typical for this genre; protagonist doesn't get accepted into intended law enforcement job because of his past, protagonist wants to support his family in fear of dying, protagonist and friend hates living the restrained environment both powerless to do anything about, and an opportunity for greater things arrives that goes against protagonist morals, but is not against taking it. Even if this is base on a true story similar crime films have the same formulaic beats. There is no fresh ideas presented to change things up making one generic heist film. The robbery itself is less than interesting. The bank the criminals steal from is lacking heavily in security and the plan was amateurish in actuality. The robbery scene is more fitting in a comedy than the serious tone director was aiming for. After the robbery it's more in the line of by-the-number plot structure if the protagonists will be captured. You'll question certain actions that even a regular person wouldn't do. Like having a drawn out plan of the robbery in your locker where you work at. Another problem is the story feel fabricated without a sense of realism. A common things for actual events to be fabricated for dramatic purpose when put on films, but here you can't help feel it's all a myth. Obviously with a movie this bland it feels like you're watching a indistinguishable product from a factory. Lead Liam Hemsworth phones in his uninspired performance. The material clearly allows Hemsworth to carry plenty of dramatic weight which Hemsworth does little with. Hemsworth best present the turmoil by keeping the same facial impression of being uninterested. At times he does deliver his lines with a level of conviction, but mostly Hemsworth doesn't bother to put in much effort in sounding remotely concern in his more dramatic scenes. I also find it unintentionally funny that Liam Hemsworth plays a character name Chris (not Hemsworth). Dwayne Johnson has charisma a trait that is unfortunately downplayed here. The role he's given confines him to a straightforward tough cop leaving no room for him to flex his acting muscles. Emma Roberts hardly receives any screen time. At most she's in around five scenes all of which have little impact on the story. Her acting is passable since the scenes she is in don't are in short length. The supporting cast outshine the leads. Their characters are given more personality and are more loose in their portrayal. Sure the supporting cast are playing American stereotype doing so with energy. The direction just like Liam Hemsworth performance is uninspired. The director is unambitious and all his set pieces fail to deliver a bang of any sort. Empire State premise contains an interesting true story, but plays out in a predictable fashion you've seen too many times before. Liam Hemsworth couldn't carry the film with his uninspired performance making things more dull to sit through. Any film that constraints the energy Dwayne Johnson can bring into a table is clearly doing something wrong. Lastly the director lack of ambition to do more with the material proving some true stories are left untold on the big screen.
Caesar Mendez
Super Reviewer
Empire State Quotes
There are no approved quotes yet for this movie.