Employees' Entrance
(1933)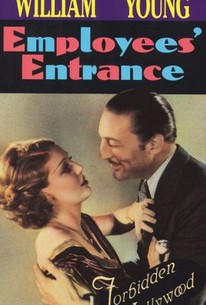 Employees' Entrance Photos
Movie Info
Warren William plays a high-powered ambitious executive who unflinchingly steamrolled his way to the top without regard for the havoc he left in his wake. As the manager of a Macy-like department store, he constantly browbeats his flunkies into submission, and ends-up driving at least one to suicide. Loretta Young plays the wife of one of William's minor employees (Wallace Ford), with whom the Big Boss has a brief affair during an office party. Eventually William gets his comeuppance, and Loretta is vindicated in the eyes of her hubby. A terrific example of pre-Motion Picture Production Code raciness, Employees' Entrance still causes audiences to gasp at its audaciousness when seen today--and also invokes loud laughter when William rebukes one of his errant vice presidents, asking him "What am I paying you so much for? Fifteen thousand a year!"
Critic Reviews for Employees' Entrance
Audience Reviews for Employees' Entrance
½
hardcore precode with warren william, terrific as a ruthless executive and womanizer, firing people left and right and even driving one employee to suicide. the film still packs a punch 80 years later
Stella Dallas
Super Reviewer
This movie is definitely pre-code, it's story is a realistic and truthful account of the troubles of a working girl and her boyfriend. This movie is worth a glance.
Pre-code shenanigans, really quite lurid in its way.
Employees' Entrance Quotes
There are no approved quotes yet for this movie.