A Royal Affair
(2012)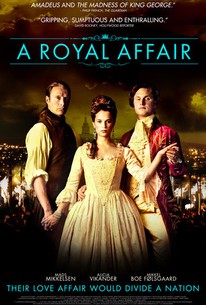 Movie Info
A ROYAL AFFAIR is the true story of an ordinary man who wins the queen's heart and starts a revolution. Centering on the intriguing love triangle between the ever more insane Danish King Christian VII, the royal physician who is a man of enlightenment and idealism Struensee and the young but strong Queen Caroline Mathilda, A ROYAL AFFAIR is the gripping tale of brave idealists who risk everything in their pursuit of freedom for their people.(c) Magnolia Pictures
News & Interviews for A Royal Affair
Critic Reviews for A Royal Affair
Audience Reviews for A Royal Affair
½
Boasting huge sets, elaborate period costuming, and intricate historical accuracy, this Danish production tells a love story between a repressed queen and a revolutionary advisor. After moving from Great Britain and marrying a childish, possibly schizophrenic king, a young woman tries to understand her repression and stave off the advancements of her husband. The manic king is soon met by a local doctor, who acts as his advisor and manipulates him by planting socialist rhetoric in his head. The wealthy landowners on the council seek to overthrow the doctor, which becomes easier once he and the queen begin an affair. There are some truly astounding social issues addressed in this film, and it's a grand indictment against not giving people their basic rights. It's a film about a country's history that eventually saw the equalization of people, through the horrible deaths and desolation of two people who only wanted to find happiness. The last twenty minutes are the most intense, emotionally heartbreaking scenes of the entire film, as their love story starts to unspool. There's blood, violence, and true agony (hitting you right in the heart) making it one of the more tragic and true love stories I've ever seen.
Spencer S.
Super Reviewer
A very compelling drama based on the true story of King Christian VII, and his influential personal physician. Excellent acting, and a good story which is largely historically accurate, as far as I have read. Mads Mikkelsen is fantastic, as usual...
Cynthia S.
Super Reviewer
Danish King Christian VII's personal physician has an affair with the queen. A lush, with beautiful costumes and exquisite set design, and sprawling epic, this film is extraordinary. The three primary characters, portrayed by Mads Mikkelsen, Alicia Vikander, and Mikkel Boe Folsgaard, are compelling and interesting. Struensee's commitment to post-Enlightenment ideals and steely eyed romanticism make for a compelling leading man, and he perfectly complemented by Caroline's steadfastness. Christian VII is much like George III, and both make interesting characters. I learned a ton about Denmark and Danish history, and the conflict between religion and progress, faith and science makes for a timeless story. Overall, I enjoyed this film immensely, and all baseball fans will be distracted by how similar Mikkelsen looks compared to Freddy Garcia.
Jim Hunter
Super Reviewer
A Royal Affair Quotes
| | |
| --- | --- |
| Johann Friedrich Struensee: | I think some people are so sealed inside their fate that they hide deep within their mind. |
| | |
| --- | --- |
| Johann Friedrich Struensee: | I am one of you. |
| | |
| --- | --- |
| Johann Friedrich Struensee: | I can do exactly as I wish. |
| | |
| --- | --- |
| Queen Caroline Mathilda: | You recognized me. |
| Johann Friedrich Struensee: | I would recognize you blind folded. |