En soap
(2006)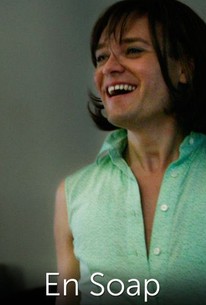 Movie Info
A dejected beauty salon owner enters into a tenuous friendship with her shy, pre-operative transsexual neighbor in director Pernille Fischer Christensen's simmering tale of affection and compassion. Thirty-two year old Charlotte (Trine Dyrholm) may own a successful beauty salon, but her failing relationship with increasingly unstable live-in boyfriend Kristian (Frank Thiel) has found her opting to strike out on her own for a change. As Charlotte embarks on a series of strictly sexual one-night stands upstairs, downstairs neighbor Veronica (David Dencik) - born Ulrick - earns her keep as a dominatrix while taking female hormones, awaiting approval for gender reassignment surgery, and occasionally accepting provisions from his doting mother (Elsebeth Steentoft). When Charlotte requests the help of her downstairs neighbor in moving some furniture and carelessly identifies Veronica as a male, the depressive pre-op laments her chances for surgery and attempts to overdose on pills. Her suicide-attempt unexpectedly announced to her neighbors thanks to her whimpering dog Miss Daisy, Veronica is subsequently saved when Charlotte hears the animal's desperate cries and rushes her ailing neighbor to the hospital. Her selfless favor returned when Veronica defends her against a drunken Kristian shortly thereafter, lonely Charlotte eventually finds herself developing strong feelings for her neighbor despite her longstanding preference for the opposite sex.
Critic Reviews for En soap
Audience Reviews for En soap
Excellent! Kind of reminded me of Transamerica, but slightly darker, while still having a bit of froth to it as the title suggests. Both the leads are good in this, but I was particularly impressed with David Dencik who plays Veronica.
Nicki Marie
Super Reviewer
[font=Century Gothic]"Soap" starts with Charlotte(Trine Dyrholm), a beauty salon owner, walking out on her boyfriend, Kristian(Frank Thiel), a doctor, suddently while he is out of town, moving into the first apartment she can find. When Kristian will not help her move her bed, she goes downstairs to the local pre-op transsexual dominatrix, Veronica(David Dencik), for help which she does reluctantly. Later, Charlotte drops by unannounced at her place, only to find her suffering from an overdose.[/font] [font=Century Gothic][/font] [font=Century Gothic]"Soap" is an adequate character study of two people who are not happy with who they are and do not know what they want out of life. Veronica may say she wants an operation but her masculine appearance does not show much commitment to her hormone regimen while her overdose speaks of deeper issues than just gender. Speaking of a lack of commitment, there is Charlotte, who is the poster child, simply by trying to have sex with every man in Scandinavia. For a bourgeois relationship, her four years with Kristian is a little unusual in that it had gone on for so long without them getting married.[/font]
En soap Quotes
There are no approved quotes yet for this movie.