Enchanted
(2007)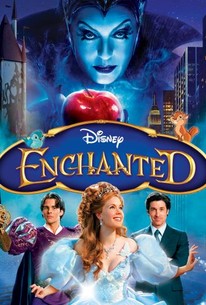 TOMATOMETER
AUDIENCE SCORE
Critic Consensus: A smart re-imagining of fairy tale tropes that's sure to delight children and adults, Enchanted features witty dialogue, sharp animation, and a star turn by Amy Adams.
Movie Info
A classic Disney fairytale collides with modern-day New York City in a story about a fairytale princess from the past who is thrust into present-day by an evil queen. Soon after her arrival, Princess Giselle begins to change her views on life and love after meeting a handsome lawyer. Can a storybook view of romance survive in the real world?
Critic Reviews for Enchanted
Audience Reviews for Enchanted
A guilty pleasure for those who like being overdosed on clichés. Made me laugh heartily (read: spit my dinner onto my screen). But a lot of the "evil queen's" scheme was frustratingly illogical.
Letitia Lew
Super Reviewer
Starting off predictable in it's own fairytale world, "Enchanted" makes you believe that you about to enter a classic disney fable, whether you like it or not. It even seems that way when the characters enter our world, until the self-awareness and hilarity ensues. About halfway through this film is when I started to believe this was going to be a great film. "Enchanted is very well-written and the story (although predictable) is very charming and a blast to watch. As predictable as it is, it seems fresh in almost every way. I really really liked this film. From it's goofy humor to it's sweet conclusion, "Enchanted" is great!
This one was actually a surprised. Very funny and entertaining. Amy Adams is awesome and Marsden is laugh-out-loud funny. It's definitely worth watching.
Enchanted Quotes
| | |
| --- | --- |
| Narrator: | And they all lived happily ever after. |
| | |
| --- | --- |
| Queen Narissa: | All this talk of true love's kiss it really does bring out the worst in me. You know if I'm going to remain queen I need a story for when I get back home. Hmm. what if a giant beast showed up and killed everyone, and poor defenseless Queen Narissa. she just couldn't save them? (points to Giselle) Let's begin with the girl who started it all shall we? |
| Queen Narissa: | All this talk of true love's kiss it really does bring out the worst in me. You know if I'm going to remain queen I need a story for when I get back home. Hmm. what if a giant beast showed up and killed everyone, and poor defenseless Queen Narissa. she just couldn't save them? [points to Giselle] Let's begin with the girl who started it all shall we? |
| Robert Philip: | Over my dead body! |
| Queen Narissa: | Alright I'm flexible (grabs Robert) |