The Enchanted Cottage
(1945)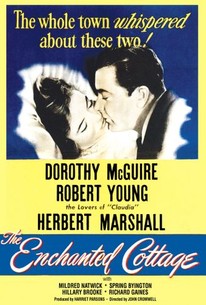 The Enchanted Cottage Photos
Movie Info
Grab a box of hankies and curl up for a night of jerked tears and warm fuzzies with Enchanted Cottage, the romantic and melodramatic tale of a horribly disfigured WW II vet who finds love and renewal at the terribly plain, wallflowery hands of a young spinster. Knowing that society is incapable of appreciating the mutually regarded beauty within each of the lovers, they retire to the romantic seclusion of a lonely cottage in New England. The plot is taken from a romantic play by Arthur Pineroi and was filmed before in the mid '20s.
Critic Reviews for The Enchanted Cottage
Audience Reviews for The Enchanted Cottage
½
The Enchanted Cottage takes place in the foggy and ephemeral world of the 1940s hollywood movie. There is definitely a dreamy quality to the film (as though it were filmed through a cotton-covered lense). A homely maid comes to work at a honeymoon cottage that is said to be enchanted. She falls in love with the scarred air force pilot who had meant to use the cottage as his honeymoon suite before his marriage plans fell apart due to his post war depression. As the two fall in love, their physical deformities seem to disappear, and both of them begin to believe in the magic of the enchanted cottage. The film is so earnest and sincere it's tough to put it down for being a little hokey. No one can get over how ugly these two are, and yet there are people in the world (even in the 1940s) who've managed to get together even with the extreme handicap of slight homeliness. Maybe the premise is a little flawed, but it's the execution that matters.
Devon Bott
Super Reviewer
The Enchanted Cottage Quotes
There are no approved quotes yet for this movie.