Encino Man
(1992)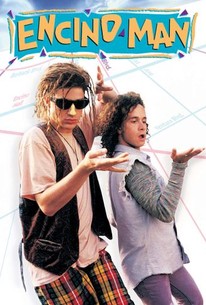 TOMATOMETER
AUDIENCE SCORE
Critic Consensus: Encino Man isn't the first unabashedly silly comedy to embrace its stupidity and amass a cult following, but whether or not it works for you will largely be determined by your tolerance for Pauly Shore.
Movie Info
A pair of high-school dweebs get a chance to become popular when they accidentally unearth a frozen caveman while digging a swimming pool. Amazingly the prehistoric fellow is still alive when he thaws out, forcing the dim-bulbed duo to give him a crash- course in civilization. Sophomoric comedy chaos follows. Occasional moments of humor (mostly in the second half of the film) fail to sufficiently compensate for long slow stretches of tedium.
Critic Reviews for Encino Man
Audience Reviews for Encino Man
Dumb is just not a strong enough word to describe this film, but oddly enough, this films plot is so stupid, that I had already forgotten about it 20 minutes in, because the actors really made something of their characters and I ended up enjoying this movie. Sure it's humour is dated, as it was trying to keep up with the trends of the early 90's, but you can easily out yourself back into that time period, as it was not that long ago. Frozen for thousands of years, a caveman is thawed in the 20th Century and must adapt and learn to speak. There are a lot of obvious gags, but others that I really did enjoy. It may be a mad movie overall, but I have no problem saying that I enjoyed watching it. "Encino Man" is worth a watch if you like dumb humour.
½
Honestly, one of my fave movies of all time, although I always knew it as California Man. A very young cast of actors who became more famous than I am sure any of them thought they would be when cast in this little known gem, I genuinely enjoy the chemistry between the three main characters and think that this movie has provided me with some gnarly one liners that I still say to this day. Hilariously original.
Unknown Hobo
Super Reviewer
½
The first cinematic outing by Pauly Shore is a half decent comedy. Though fun, and comical at times, Encino Man is not a great film. I see it as an a borderline effort in the genre, and one that can actually be quite forgotten. Encino Man gave us the taste of Pauly Shore, and what was to come with one good comedy and three other bad, repetitive comedy. In Encino Man, Pauly Shore plays a surfer type dude who he duplicated in the many films that followed. The plot is simple, two friends find a caveman in their backyard and use him to gain popularity. Encino Man is a fun film, but it's nothing knee slapping hilarious. Whats funny to me though is how Pauly Shore has faded into darkness and how Brendan Frasier, Sean Astin and Robin tunney managed to all have pretty good careers. Encino Man is a average film with a few laughs throughout, but also you have to keep your expectations low. Nothing really good happens. The films plot is simple, even by comedy standards and the acting of course isn't great. Along with Son in Law, Encino Man manages to be one of the few Pauly Shore films thats watchable. But the film is really a one trick poney with Shore acting like the Weasel. Oh well, at least he made two decent films before being overly repetitive. Encino Man is a comic film with a few decent gags, but it's nothing to write home about.
Encino Man Quotes
| | |
| --- | --- |
| Stoney Brown: | Keep on cruisin' |
| Stoney Brown: | Keep on cruisin'. |
| | |
| --- | --- |
| Stoney Brown: | Weez the Juice! |
| Stoney Brown: | Weez the juice! |