End of Days
(1999)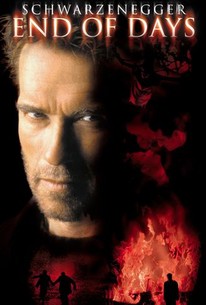 Movie Info
Jericho Cane, a beaten down ex-cop, is the reluctant hero of End of Days, a chilling, horrific thriller set at the cusp of the millennium. When the ultimate personification of evil is unleashed upon the world, Cane is unwittingly drawn into a heart-stopping supernatural game of cat and mouse. Now, as the countdown to the end of days approaches, all that stands in the way of mankind's destruction is the salvation of one women, whose fate comes to rest in Cane's shaky hands.
News & Interviews for End of Days
Critic Reviews for End of Days
Audience Reviews for End of Days
½
Arnold Schwarzenegger is by far the coolest action hero of the past thirty years, because he doesn't care that he has a language barrier, that his career is oftentimes trivialized by some of his choices, and he always takes on foes that are bigger than life. Who is a bigger than life enemy than Satan himself? That premise alone puts the butts into seats. What is expected to be a film that pits every power the devil possesses versus that of the human vaguely feels like a man fighting demonic possession. The devil, played by Gabriel Byrne, may have all the hellfire and passion of an impresario, but he is not the menacing overlord of evil that one would hope. Though he is downgraded to an immovable immortal, we still have the plight of foretold victim Christine (Tunney) and former police officer Jericho (Schwarzenegger). Besides their obviously chosen names, these two are pitted against the devil, who has to consummate with Christine before midnight, or else he will not have spawned an heir, and he cannot take over the world. The devil oftentimes possesses people, brings back the dead to the land of the living, walks through fire, and can morph into a scary entity, which does amp up the action. What makes this film so eye rolling seems to be the decisions behind the back-story, because it was 1999 and they needed to make a film about the end of days lickety split. Instead of permeating this action film with true Christian values, or even scripture, there are many instances of mimicking theology for more dramatic effect. Jericho is put into the film as a Christ like figure, though he has lost his faith to an inauspicious degree, after his family is killed. Christine in comparison is always the creepy hostage who seems seduced by the devil's power. There is always something interesting about a martyr saving the world, but with all the off-putting aspects of this, it still feels a bit stilted and incomprehensible at times.
Spencer S.
Super Reviewer
½
Somehow this ends up being a pretty interesting story and one of Arnold's better performances, he plays a smart ass cop pretty well. Sure, it has nothing on The Exorcist or The Omen, but it's about as good as you could expect an action horror movie to be. There are some really nice sequences and at the end of the day it's just fun, like most of Arnold's movies.
Conner Rainwater
Super Reviewer
End of Days Quotes
| | |
| --- | --- |
| The Man: | Let me tell you something about Him. He is the biggest underachiever of all time. He just has a good publicist, that's all. |
| | |
| --- | --- |
| The Man: | How do you expect to defeat me when you are but a man, and I am forever? |
| | |
| --- | --- |
| Father Kovak: | We can't prevent evil by doing evil. |
| | |
| --- | --- |
| Chicago: | You'd be amazed what you'll agree to when you're on fire. |