Endhiran
(2010)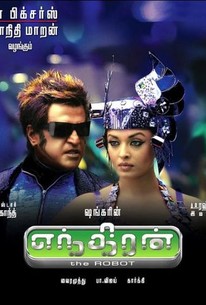 Movie Info
Chennai, India 2010, the mission on hand: Create an Andro-humanoid robot -- CHITTI -- whose purpose is to help humank kind and society wih a development time of 10 years. In effecti, Chitti is a human who is not born but created. He can do all that a human can and more. He has razor sharp memory and can memorize an entire telephone directory by just running through the pages, yet he cannot understand human emotions. Dr. Vasi decides to upgrade Chitti's processor and simulate human emotions. Now, Chitti can feel, and the first feeling that he discovers is LOVE. Will this love come in the way of Dr. Vasi's purpose of creating Chitti? Will Dr. Vasi's own creation destroy him?
Critic Reviews for Endhiran
Audience Reviews for Endhiran
Endhiran (The Robot) is the much-touted Indian sci-fi extravaganza that debuted last year. If you've seen the trailer, you'll have a pretty good idea what you're getting into. A roboticist builds a lifelike robot and begins teaching him how to become human. The scenes practically write themselves, but they're overpowered by frequent song and dance numbers that interrupt the flow of the movie. These are mildly entertaining at first for their sheer novelty, but by the fourth number I started looking at my watch. If not for these distractions, Endhiran would fit right in with Hollywood's blockbusters. It certainly regurgitates enough gags from them, with a particular fondness for The Matrix and Terminator films (Woo-Ping Yuen was hired to choreograph the stunts, so it's not too surprising). Naming the origins of its low-rent scenes ahead of your friends might make for an interesting drinking game, but the lack of imagination is disappointing. It does try to put its own spin on familiar ideas, but is most successful when it pits man vs machine for the love of a woman. But it takes far too long to build up to that, and the fun action sequences are fleeting. At nearly three hours long, some cuts here and there would be appreciated. There's a disproportionate number of scenes with questionable value (ones with talking mosquitoes, and another where a woman gives birth come to mind), and they're not always entertaining for the right reasons. I wouldn't say that Endhiran is so bad that it's only worth watching just for laughs, but it comes pretty darn close. In the end, this is a tough one to recommend due to its taxing length and general stupidity, never mind the largely unwelcome Bollywood-style numbers (Endhiran isn't considered a true Bollywood film because it was filmed in Chennai in Tamil). But the action scenes, with their cartoon physics and utter disregard for realism, are pretty hilarious. The grand finale, in which hundreds of humanoid robots band together like modular parts to form gigantic snakes, drills, and other stuff might be enough to sway this one into the "must see" category, if you're in the mood for something totally crazy. Just be prepared to wade through a whole lot of cheese to get there. This review is a repost from my site: www.plasticpals.com
Robotbling -
Super Reviewer
½
Although this was my first Bollywood movie, I had learned a bit about the genre previously, so I wasn't as surprised as some other people were by the extravagant music video style song and dance numbers. I actually thought they looked really cool, but some of the songs weren't that good. This movie has a lot going on, though, not just music. It's a sci-fi, action, romance, comedy, musical movie, which I thought was a cool mix of genres. But then again a lot of the CGI reminded me of American action and sci-fi movies today, meaning it was overblown and got boring towards the end. Overall this movie was fun, but it could be a lot better, especially if it were shortened (and yes, I know Bollywood movies are long, but it got on my nerves).
½
S. Shankar doesn't hold back with Endhiran, as it delivers anything and everything.
Unsurprisingly, the film runs a lengthy 2 hours and 40 minutes and that includes the 20-30 minutes of musical numbers. The plot advancements are rather slow in the early going, but the film manages to hold itself together by placing the major characters in comical situations.
The visual effects are mediocre; however, given the nature of the film it doesn't feel that out of place. The action sequences are also over the top. They get a little violent and destructive at times, but overall they tend to be rather humorous. The transformation segment in the final act is noteworthy.
The music sequences employ some good robotic dance choreography, along with some colorful sets, locations, and costumes. As for the songs themselves, they are good enough to get by.
Rajinikanth pulls off 2 major characters. His performance as Chitti, the android, is a highlight. The stunning Aishwarya Rai showcases many dance moves and outfits to go along with them. She looks gorgeous in each one.
Overall, Endhiran has got the Bollywood style and then some. "Cash, check, credit card? Gun."
Endhiran Quotes
There are no approved quotes yet for this movie.