Endless Love
(2014)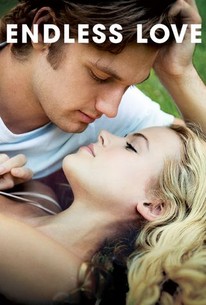 TOMATOMETER
AUDIENCE SCORE
Critic Consensus: Blander than the original Endless Love and even less faithful to the source material, this remake is clichéd and unintentionally silly.
Movie Info
Alex Pettyfer (Magic Mike) and Gabriella Wilde (The Three Musketeers) star in Universal Pictures' ENDLESS LOVE, the story of a privileged girl and a charismatic boy whose instant desire sparks a love affair made only more reckless by parents trying to keep them apart. Directed by Shana Feste (Country Strong), the romantic drama co-stars Robert Patrick, Bruce Greenwood, Rhys Wakefield, Dayo Okeniyi, Emma Rigby and Joely Richardson. Scott Stuber and Pamela Abdy (Identity Thief) of Bluegrass Films are joined by Josh Schwartz and Stephanie Savage (Gossip Girl) of Fake Empire to produce the film from writers Josh Safran (Gossip Girl), Feste and Schwartz. Inspired by the 1979 novel and 1981 film of the same name, ENDLESS LOVE will be released on Valentine's Day, 2014.(c) Universal
News & Interviews for Endless Love
Critic Reviews for Endless Love
Audience Reviews for Endless Love
Bearing no resemblance at all to the original story, this endlessly awful teenage melodrama basically tries to create conflict by turning the girl's father into a monster but only manages to be nonsensical - really, it doesn't even have any idea of what a recommendation letter is.
Carlos Magalhães
Super Reviewer
Some movies are so laughably bad that they are entertaining. Here is one of them. First, based on the trailer I thought this was going to be some kind of drama/thriller mix, like the movie "Fear". But, I was way off on that. This is a straight up teenage love story. Very generic, very predictable, and pretty stupid. The acting is bad, I'm sorry but Alex Pettyfer has zero charisma and is as wooden as Keanu Reeves. What makes this a fun movie to watch is making fun of it while you watch it. Emily and I made quite a few jokes during it, and rolled our eyes a lot. I'm sure some teenage girls will love it and think it's so romantic. But adults will just go "oh lord this is dumb".
Everett Johnson
Super Reviewer
Say Goodbye to Innocence. Very good romantic movie! This is basically a good romantic movie. If you are hoping for more depth, more story or more anything you will be disappointed. But for what it was, I enjoyed it. The acting was solid, I really liked Gabriella Wildes performance. She was fresh faced and innocent. Endless Love has everything going in its favor - enchanting chemistry between the screen couple, nice background score , beautiful location. So, if you are looking for a nice romantic date with your partner, you might choose Endless Love for a perfect evening. The opening scene is a high school graduation, class of 2014. Jade Butterfield (Gabriella Wilde), a shy but beautiful young woman, is graduating. She is going to be attending Brown University in the fall. She stands alone after the ceremony, while everyone else laughs with friends and takes pictures together. Jade quietly rejoins her parents while reminiscing about her younger brother, Chris, who passed away from cancer. David (Alex Pettyfer), another student graduating, observes her from a distance and notices how lonely she seems. He seems intrigued by her, but doesnt speak to her. Jade, her parents, and her older brother Keith stop at an upscale restaurant to eat lunch after the graduation. Her father pulls the car up for valet service. While exiting the car, Jade bumps into David, who works as a valet at the restaurant. She shyly says 'hello' and walks inside behind her parents, but comes outside again to ask David to sign her yearbook. Inside the restaurant, Jades father asks her what she would like as a graduation present. Jade asks for a party. Shes never had the chance to socialize with her peers before. (Its clear that Jade has lived a very sheltered, caged life.) Although her mother thinks its a wonderful idea, her father thinks its a bit odd, but agrees nonetheless. On the way out of the restaurant, Jade invites David to her party. She and her family also observe David getting into a physical altercation with a snobby client who insults him. He punches him and then gets fired on the spot. Jade wears a beautiful red dress for her graduation party. Her home is full of her fathers wealthy, middle-aged friends. None of her classmates have shown up. David arrives. Jade is happy to see him but she feels bad that none of her classmates have come. David explains that there is another graduation party taking place the same evening and that everyone is probably there. He takes out his phone, calls the police and makes a fake noise complaint about the other party, effectively shutting it down. Soon, lots of classmates begin to arrive at Jades house. Everyone drinks, dances and has fun. Jade and David sneak into a closet to kiss just as Jades father gathers everyone together to make a speech. He talks about how proud he is of Jade and attempts to make a toast, however Jade is nowhere to be found. She sheepishly comes out of the closet, closely followed by David. Her father is annoyed, but continues with the toast. He thanks everyone for coming and ends his speech by asking them all to leave. David leaves after apologizing to Jades father. He knows hes made a bad first impression but makes it clear that he cares for Jade very much. Jade races to her balcony and throws a paper plane down to David. It says, Wait until all the lights are off. David waits in the pouring rain until the lights are off. He sneaks back into the house and walks into a room where Jade is waiting for him. Theres a large cozy fire in the fireplace and shes wearing a beautiful, white negligee. They begin to kiss passionately and spend all night together. Its clear that Jade and David are completely smitten with each other. The next day, Jade spends time with her father at the hospital. He is a doctor and is grooming her to go into medical school. He asks her to stay and observe a surgery, but she tells him that she cant. He is disappointed and taken aback by her not following his wishes, since she usually does. She meets David near a lake and kisses him intensely. They discuss a summer medical internship she has, which means they only have about 10 days left to spend together. David tells her that he doesnt care how much time they have, he wants to enjoy it to the fullest. A very sweet montage shows them riding bicycles, running through fields and enjoying each others company with reckless abandon. David drops Jade home after their last evening together. She tells him to ask her to stay, instead of leaving for the internship. He does, and she agrees. She goes inside and begins to unpack. When her father asks her why, she tells him she changed her mind about the internship. Her father knows its because of David. He is furious. The next morning, Jade awakes to find her entire family packing. Her father has decided to take everyone to the lake house. Shortly after they arrive at the lake house, the doorbell rings. Its David. Jades father is not pleased, but since Keiths girlfriend is there, how can he not let Jades boyfriend stay too? Later, Jades father apologizes for being rude and unwelcoming to David. That night, Jade, David, Keith and Keiths girlfriend are outside playing with fireworks. David goes into the garage to get some more. He sees Jades father in the garage kissing another woman. He is disturbed and leaves quickly. The next morning, Jades father takes David out in a boat and essentially reads him the riot act about remaining quiet if he knows whats good for him. Jade and David go to a party where they are convinced by a friend to sneak into a local zoo. They sneak into the zoo and have tons of fun playing hide and seek, looking at different animals and riding the carousel. They are caught by the police. David allows himself to be caught to give everyone else the chance to get away. Jade is distraught and asks her father to bail him out. Her father is hesitant but agrees, if she will go for the internship. He bails David out of jail, but insults him until David punches him, which was exactly what he wanted. He goes home to his family and tells them that David is violent, manipulative and cannot be trusted. Jade goes looking for David and they confront each other outside a café. They go back and forth with arguing until he walks away. She accuses him of not fighting for their relationship. She gets into her car and begins driving away. David runs after her, but she is slammed into by another car. Everyone converges together at the hospital: Jades parents and brother and David and his father. Jades father takes Davids father aside and gives him a restraining order. He wants David to stay away from Jade. Davids father argues that theyre only kids and they just had an argument, but Jades father refuses to hear him. When Jade wakes up, she wants to see David. She goes to his house but his father refuses to let her see him, since it would be illegal and get him into trouble. Jade leaves for Brown while David stays in town. They each try to move on with their lives. Months go by. David runs into Jades mother in a bookstore and asks to have coffee with her. She always admired David and his love for Jade. He asks if she is coming home for the holidays and if he can see her. Jades mother tells him which day she is arriving. David goes to the airport and meets her as she walks out of a terminal. He tells her he has two tickets and will take them anywhere in the world. He asks her if shell meet him that night and run away with him. She looks into his eyes and agrees. That night, Jades father picks a fight with Keith for being in Chris room and touching his things. Jades father wants to keep it like a museum. Keith and his girlfriend leave in anger. Jades mother follows, to be with her son. Jade packs her things to leave with David. Unknown to anyone, a candle has fallen over in Chris room and ignited a huge fire. Right as Jade and David are leaving, she sees that the house is on fire and screams for her fathers safety. He is inside hastily collecting Chris things, trying to save them. David rushes inside to save Jades father. He is knocked down and loses consciousness. Jades father sees him, puts down Chris belongings and picks up David. They both make it out of the burning house. The next scene shows Jade and her mother standing at Chris grave. It is another few months later, and it is revealed that Jades parents are separated. Her mother encourages her to be close with her father again. Jade lets her father drop her at the airport. David meets her there and they fly to California, where they witness Keith and his girlfriend get married. The movie ends with the four of them hanging out on the beach. Jade and David lay next to each other as her voice over explains how a certain kind of love, the intense, once-in-a-lifetime love, cant-live-without-you love, is worth fighting for.
Endless Love Quotes
| | |
| --- | --- |
| David Elliot: | Do you love this other guy, do you love him like you love me? |
| Jade Butterfield: | Of course not, I don't love anyone the way I love you. |
| | |
| --- | --- |
| David Elliot: | Welcome to the Inn. |