Enduring Love
(2004)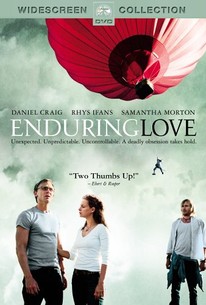 TOMATOMETER
AUDIENCE SCORE
Critic Consensus: While it strains credibility and isn't ultimately as profound as it might first appear, Enduring Love is still an intriguing thriller fueled by strong performances from Rhys Ifans and Daniel Craig.
Movie Info
On a beautiful cloudless day a young couple celebrate their reunion with a picnic. Joe has planned a postcard-perfect afternoon in the English countryside with his partner, Claire. But as Joe and Claire prepare to open a bottle of champagne, their idyll comes to an abrupt end. A hot air balloon drifts into the field, obviously in trouble. The pilot catches his leg in the anchor rope, while the only passenger, a boy, is too scared to jump down. Joe and three other men rush to secure the basket. Just as they secure the balloon, the wind rushes into the field, and at once the rescuers are airborne. Joe manages to drop to the ground, as do most of his companions, but one man is lifted skywards. As Joe, Claire and the other rescuers watch this strangely beautiful sight; they see the man fall to his death. Recalling the day's events at dinner with his friends Robin and Rachel, Joe reveals the impact the accident has had on his battered psyche. Ironically the balloon eventually lands safely, the boy unscathed. But fate has far more unpleasant things in store for Joe. Going to retrieve the body of the fallen man with fellow rescuer Jed Parry, for example, turns out to be a very bad move. Jed feels an instant connection with Joe--one that, as the weeks go by, becomes ever more intense.
News & Interviews for Enduring Love
Critic Reviews for Enduring Love
Audience Reviews for Enduring Love
The opening of this film is brilliant. I loved the set-up and the way that the story was set up. The way the film is shot and the overall look are great. Daniel Craig is really good in his role and he is supported by a nice cast (Morton, Nighy). There are even a couple of oh shit moments that really caught me off guard. The problem is that the last shot of the film (which even appears as the credits are rolling) is absolutely atrocious. It makes no sense. It's too bad because everything leading up to it made for a pretty good movie.
This film really resonated with me personally. I know it probably doesn't deserve this rating on an objective scale, but I liked it a lot. First off, there is the presence of Daniel Craig. Enough said. I like Samantha Morton a lot but her character is one of the biggest problems with this film. She is empty, walled-off and almost cruel to her husband, which doesn't necessarily make for a weakened movie, but her actions betray the realism of the narrative. (It starts to do that to itself later, but she's the first step of several.) She simply can't accept the fact that crazy Rhys Ifans is enamored with the man she loves, turning a blind eye to the most blatant of evidence. Her ignorance is unreal, existing only so that the plot can move around her rather than with her. Ifans himself delivers a rather divisive performance; it is a little hard to take him seriously, but he goes through the motions with such verve that you're tempted to just surrender to him. This somewhat reflects the narrative: after Joe and Claire witness a horrible hot air balloon accident, Jed (Ifans) develops an unrequited sort of bond with Joe, asking him to pray with him over a man's corpse. This soon extends to following him around, standing outside his window and creating horrifying murals. His conviction that "something passed between them" is so great that even Joe wonders if he has a point, if the incident created some twisted link between the men. Of course, things quickly go sour. This is adapted from what many call Ian McEwan's finest novel. What this movie amounts to is a stalker thriller with a swirl of shallow rumination about the nature of love thrown in for good measure. It hits its peak of ridiculousness at the climax, which is apparently nothing like that of the McEwan novel and solely exists to fulfill some trashy fantasy fodder. That said, it was kind of hot. I am a bad person. AND AFTER ALL THIS PANNING I'm still giving Enduring Love four stars. Like I said, I think it was exactly what I needed at that point in my life. Fed up with the shallow chemical reactions that constitute what we call "love" (which the movie attacks gracefully), wanting something alternately beautiful (this movie is gorgeously filmed and exploding with vivid colors) and heavy, something wistful and a little downtrodden. This really hit the spot. I don't think I'll ever watch it again, for fear that it'll compromise my memories of it, so I'll just store it away and not think about it too much anymore.
Drew Smith
Super Reviewer
½
We rented this on a fluke and were pleasantly suprised and slightly distrubed. It is a very quiet film with lots of twists and suprises, strenghtened by an exceptional cast.