Enemy Mine
(1985)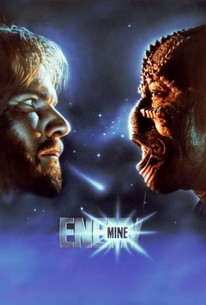 AUDIENCE SCORE
Critic Consensus: Enemy Mine extracts thrilling sci-fi pulp from Dennis Quaid and Louis Gossett Jr.'s chemistry and inventive production design, but an overextended story diminishes the power of its central duo's relationship.
Movie Info
Love means never having to say that you're ugly in the extravagant fantasy film Enemy Mine. Earthling Dennis Quaid is Davidge, one of many space warriors engaged in a bloody extraterrestrial battle against the Draconians. Crash-landing on a faraway planet, Davidge is forced into an "up close and personal" with the Drac (Lou Gossett Jr.), a repellant, reptilian creature. Evidently a bivalve, the Drac gives birth to a baby Drac just before expiring. Now a reluctant foster father, Davidge tries to keep himself and the baby alive while the war continues to rage all around them. The special effects (courtesy Industrial Light and Magic) are serviceable if not brilliant, and the acting is okay so far as it goes. What socks over Enemy Mine is Rolf Zehetbauer's awe-inspiring production design and Chris Walas' superb makeup work. Though a favorite on home video, the film deserves to be seen on a wide theatre screen. ~ Hal Erickson, Rovi
Critic Reviews for Enemy Mine
Audience Reviews for Enemy Mine
The effects of this childhood favorite of mine may not have aged well, considering it is two years "younger" than the still excellent Return of the Jedi, but the story still works. In this sci-fi adventure a man and an enemy fighter alien crash on the same planet and have to work together to survive. The growing friendship may be a tad too mushy at times and of course we know they'll overcome their differences, but that's told in such a charming, humorous and fun way that it's hard not to like this film. Gossett Jr. manages to bring a lot of emotions through his (excellent) alien make-up and Quaid always makes for a great leading man. The plot even takes a rather unexpected turn in the third half and makes you honestly question if all this ends well after all. A lovable, even if naive, space adventure. Maybe a guilty pleasure today, but still a fun film.
½
A vey good and touching film which has obvious under currents of racism and hatred. Both actors are very good as they try to adapt and get on with each other, the look is good but alittle obvious as sets, not great but good and you do feel for the Draconians as the films nears its climax. Its a nice idea that works well and does highlight how cruel and meaningless racism is, quite emotional and touching as the finale builds tension which gets you rooting for the hero.
Phil Hubbs
Super Reviewer
½
It's either one of the worst movies ever made or a B-Movie classic, that's really the only way I can see it. The dialogue and forced racism element is utterly hilarious. Then there's just this really bizarre alien birthing/aging process that I will never truly understand. While it's extremely enjoyable and fun, I don't think any of it was intentional.
Conner Rainwater
Super Reviewer
Enemy Mine Quotes
| | |
| --- | --- |
| Davidge: | And when, in the fullness of time, when Zammis brought its own child before the Holy Coucil, the name of Willis Davidge was added to the Line of Jereeba. |
| | |
| --- | --- |
| Davidge: | Zammis get four five? |
| | |
| --- | --- |
| Drac: | Earthman, your Mickey Mouse is one big stupid dope! |