Enemy of the State
(1998)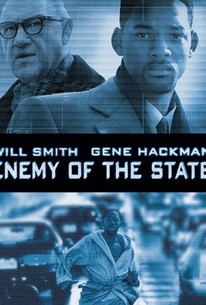 TOMATOMETER
AUDIENCE SCORE
Critic Consensus: An entertaining, topical thriller that finds director Tony Scott on solid form and Will Smith confirming his action headliner status.
Enemy of the State Videos
Enemy of the State Photos
Movie Info
The action producing-directing team of Jerry Bruckheimer and Tony Scott is back with another thrill-a-minute ride called Enemy of the State. Taking its "innocent man accidentally caught up in political corruption" story from such films as Francis Ford Coppola's The Conversation, Alfred Hitchcock's The Man Who Knew Too Much, and Sydney Pollack's Three Days of the Condor, they turn up the high-tech volume in an attempt to create the ultimate action film. Robert Clayton Dean, played by Will Smith, is a devoted father, husband, and attorney shopping for a sexy gift for his wife. What he doesn't know is that he was given a videotape from a friend (Jason Lee) regarding the recent murder of a U.S. senator led by corrupt National Security Agency official Thomas Reynolds (Jon Voight). Now Reynolds is after Dean to cover his tracks or, as the audience soon finds out, frame Dean for Rachel's murder. Since Dean isn't up on his high-tech gadgetry, he needs the aid of ex-intelligence operative Brill (Gene Hackman). Between the explosions and chases is the subtext of George Orwell's 1984 mantra "beware of big brother," as Dean realizes that in the modern world, there is no such thing as total privacy. ~ Arthur Borman, Rovi
Critic Reviews for Enemy of the State
Audience Reviews for Enemy of the State
As far as action are concerned, Enemy of the State is pure mindless popcorn flick from start to finish. The film has flaws, but it makes up for it with exciting action. I thought this film fun from start to finish, and with every other Tony Scott flick, he delivered a good action film. The cast do a fine job, and despite the fact that Enemy of the state relies on the traditional innocent man involved in political corruption explored in so many other films, this is still a must see film for action film buffs. The film is pure popcorn fare. What do you expect from a Tony Scott film? Will Smith is good as the lead and really delivers something memorable here. Tony Scott as usual delivers the thrills that you'd expect, and he does it well. Although this is far from perfect, Enemy of the State is a good action film for what it is. I was very much entertained, even though the film follows the usual formula of so many other films of this genre. The plot doesn't do anything new or original, thus it's kind of predictable. Despite this, Enemy of the State is still worth watching for a mindless, fun Friday evening. The cast make this film watchable and despite its flaws, this is purely a fun film that has awesome action. A very well done action film, not perfect, but good nonetheless. If you're looking for a good action film that is pure mindless fun, Enemy of the State is the film that you should watch. The cast are good, and the plot despite it's nothing original, it delivers on excitement, face paced action; and it does it well.
Not my idea of an enthralling movie, but okay for it's genre, I guess. I was too bored to tell for certain.
Nicki Marie
Super Reviewer
High adrenaline paranoia thriller making great use of the technological potential of the big brother state. While it slowly sets up Will Smith as the innocent man stumbling into this conspiracy, things speed up once his life is taken from him on a technological level. Music, camera work and editing all add up to a really exciting thriller that doesn't take many breaks for catching your breath. The showdown even brings a quantum Tarantino into the mix. The result is satisfying, fast, sometimes spectacular and surprisingly smart.
Enemy of the State Quotes
| | |
| --- | --- |
| Brill: | Do they know me? |
| Robert Clayton Dean: | Who's them? |
| Robert Clayton Dean: | I don't know what you're talking about. |
| Brill: | You're either very smart... or incredibly stupid. |
| | |
| --- | --- |
| Robert Clayton Dean: | What the hell just happened? |
| Robert Clayton Dean: | What the hell is happening? |
| Brill: | I blew up the Building. |
| Robert Clayton Dean: | Why? |