The English Patient
(1996)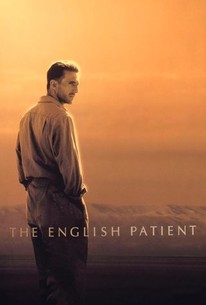 TOMATOMETER
AUDIENCE SCORE
Critic Consensus: Though it suffers from excessive length and ambition, director Minghella's adaptation of the Michael Ondaatje novel is complex, powerful, and moving.
The English Patient Videos
The English Patient Photos
Movie Info
Anthony Minghella wrote and directed this award-winning adaptation of Michael Ondaatje's novel about a doomed and tragic romance set against the backdrop of World War II. In a field hospital in Italy, Hana (Juliette Binoche), a nurse from Canada, is caring for a pilot who was horribly burned in a plane wreck; he has no identification and cannot remember his name, so he's known simply as "the English Patient," thanks to his accent. When the hospital is forced to evacuate, Hana determines en route that the patient shouldn't be moved far due to his fragile condition, so the two are left in a monastery to be picked up later. In time, Hana begins to piece together the patient's story from the shards of his memories; he's actually Count Laszlo Almasy (Ralph Fiennes), of Hungarian nobility and an explorer working with a group mapping uncharted territory in North Africa. An Englishman, Geoffrey Clifton (Colin Firth), soon joins Almasy's team; travelling with him is his lovely and spirited wife, Katherine (Kristin Scott Thomas). Katherine and Laszlo soon fall in love, which leads Laszlo to betray his friend, his country and all that is dear to him. Meanwhile, Hana and the Patient are joined by Kip (Naveen Andrews), a Sikh with a gift for defusing mines, and Caravaggio (Willem Dafoe), an intelligence agent who knows some of Laszlo's most shameful secrets. The English Patient won nine Academy Awards, including Best Picture, Best Director and Best Supporting Actress (Juliette Binoche). ~ Mark Deming, Rovi
News & Interviews for The English Patient
Critic Reviews for The English Patient
Audience Reviews for The English Patient
The kind of overlong and self-important epic-scale drama that seems tailor-made to win every award for its outstanding visuals, performances, make-up and editing, but which suffers from an excess of characters and subplots while lacking in focus and meaning.
Carlos Magalhães
Super Reviewer
Excellent, moving film. Fiennes can do no wrong. This is one of the few films in which I appreciated Willen Defoe's acting.
Christian C
Super Reviewer
The English Patient is a film that I really want to enjoy. Unfortunately, I really couldn't get into the story. I do enjoy a good drama/romance, but Unfortunately this one simply just didn't do it for me. I applaud the acting, as I thought there was good performances here. Unfortunately I didn't very much enjoy the film. I didn't see what the hype was about. I thought the film was quite boring with good acting. I really wanted to get into this, but simply couldn't. For me the greatest romance of all is Casablanca. Everything else seems to be derivative. The English Patient is pretty boring, don't get me wrong, I love films that take time to develop its story, but this film could be much shorter. I felt that the film dragged on, and took far too long to get to the point. Unfortunately this films performances can't save this turkey. Sure people will say this is a sweeping romantic epic, but I thought it was a dud. Like I previously stated, there is only one true romance film, Casablanca. That film is a real classic. However I can't say the same for this film. This film tried too hard at manipulating your emotions and it just didn't work, at least not for me. I felt that The English Patient was a film too wrapped up in its romantic storyline, and it simply jerked your chain to try an sweep you off your feet. I wasn't impressed with this and felt this was a mediocre film with great acting.
The English Patient Quotes
| | |
| --- | --- |
| Katharine Clifton: | New lovers are nervous and tender, but smash everything. For the heart is an organ of fire. |
| Count Almaszy: | New lovers are nervous and tender, but smash everything. For the heart is an organ of fire. |
| | |
| --- | --- |
| Count Laszlo Almasy: | The thimble, you are wearing the thimble... |
| | |
| --- | --- |
| Katharine Clifton: | We die containing a richness of lovers and tribes, tastes we have swallowed, bodies we have plunged into and swum up as if rivers of wisdom, characters we have climbed into as if trees, fears we have hidden in as if caves. I wish for all this to be marked on my body when I am dead. I believe in such cartography - to be marked by nature, not just to label ourselves on a map like the names of rich men and women on buildings. We are communal histories, communal books. We are not owned or monogamous in our taste or experience. |
| | |
| --- | --- |
| Count Laszlo Almasy: | Every night.. I cut out my heart... But in the morning it was full again. |