Ensemble, c'est tout (Hunting and Gathering)
(2007)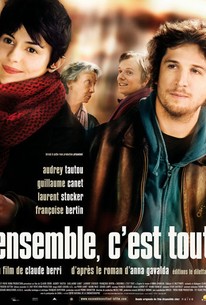 Ensemble, c'est tout (Hunting and Gathering) Photos
Movie Info
Acclaimed director Claude Berri (Jean de Florette) helms the whimsical romantic comedy Ensemble, c'est tout (Hunting and Gathering, 2007). A box office blockbuster in France, the picture follows the romantic couplings that form in the lives of several lonely Parisian singles. The lead characters include: an emotionally fragile, exhausted cleaning lady named Camille (Audrey Tatou) who is suffering from anorexia; a well-to-do young man named Phillibert struggling with his own sexual orientation (Laurent Stocker) but who begins to drift toward heterosexuality and a stable relationship with a woman; and Phillibert's rebellious pothead roommate Franck (Guillaume Canet), who can never quite breach the possibility of committing to one woman, or come face to face with his dream of opening a French restaurant - until he meets Camille and the pieces begin to fall into place. Writer-director Berri adapted the novel by Anna Gavaldi.
Critic Reviews for Ensemble, c'est tout (Hunting and Gathering)
Audience Reviews for Ensemble, c'est tout (Hunting and Gathering)
½
Usually I have seen that many foreign films are highly over-rated. But this one deserved every applause it could get. This is a beautiful film about friendship and love; more importantly, very well shot, without the typical FrenchMovie gimmicks like crazy camera angles or twisted plot lines.
½
Amusing, engaging and touching, with splendid performances. This French romantic-drama frilm is fascinating and entertaining look at four very dissimilar people whose lives suddenly interconnect. So emotionally as what I thought these are alike family they care about each other. Beautiful French actress Audrey Tautou makes her fantastic performance as poor cleaner who is bored with life before things changes to spend with two flatmates. I love French movies.
Dean McKenna
Super Reviewer
I enjoyed this one a lot more than I expected to! It did not look half as light and funny as it was from the trailer. This is just a nice film, nothing clever about it and missing the abrupt ending French films often have. (Actually the one fault I could find with it was that the ending was a little too stick-your-fingers-down-your-throat-nauseating), but no one else who saw it with me was complaining, so perhaps that was just me! Fans of chick flicks, who don't mind reading subtitles, will enjoy this and probably pretty much anyone who liked Audrey Tautou in "Amelie". I would have to say that Laurent Stocker stole the show in this though with his character Philibert - absolutely hilarious, although how anyone is meant to believe that character is not gay is beyond me!
Nicki Marie
Super Reviewer
Ensemble, c'est tout (Hunting and Gathering) Quotes
There are no approved quotes yet for this movie.