Enter Laughing
(1967)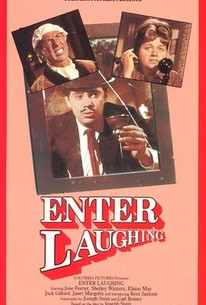 Movie Info
Carl Reiner's semi-autobiographical novel Enter Laughing makes a largely successful transition to the screen. Reni Santoni plays the Reiner character, here named David Kolowitz. A machinist's apprentice in Depression-era New York, David dreams of becoming the new Ronald Colman. Defying the wishes of his parents (Shelley Winters, David Opatoshu), David lands a nonpaying job in a seedy theatrical production directed by broken-down ham Marlowe (Jose Ferrer). That the young aspiring actor knows nothing about his "craft" is evident the moment he speaks his first stage direction--"Enter Laughing"--as if it were a line of dialogue. Helped along by Marlowe's sex-starved daughter Angela (Elaine May), David manages to survive the rehearsal period, but his first public performance threatens to become a disaster when he can't find the entrance to the set. Still and all, David makes it through the play, cheered along by his now-supportive parents. Blessed with a marvelous supporting cast--including Jack Gilford, Don Rickles, Janet Margolin and veteran black comedian Mantan Moreland--Enter Laughing is a riot, especially for those viewers who have ever participated in amateur theatricals themselves. Only Reni Santoni fails to ring true as David Kolowitz (a role played on stage by Alan Arkin), though he has a few choice scenes, especially his impromptu performance on a subway. Watch for Rob Reiner in his film debut as a clumsy, self-conscious actor.
Critic Reviews for Enter Laughing
Audience Reviews for Enter Laughing
½
A book written by Carl Reiner was then turner into a play, Carl Reiner then adapted and directed that play into this movie. And the results are... Uninspired. Not without one or two good bits, but Enter Laughing really feels stage bound and suffers as a result. Sorry Carl I <3 U!
Ken Stachnik
Super Reviewer
Enter Laughing Quotes
There are no approved quotes yet for this movie.