The Entity
(1982)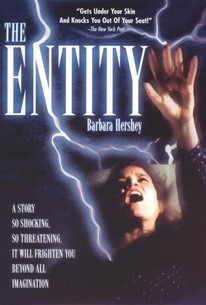 Movie Info
In this exploitative and supposedly fact-based thriller, a woman thinks she is losing her mind when she is raped several times by an unseen supernatural entity. No one believes her, until she finds a parapsychologist at a local university who believes and devises a clever trap for catching her tormentor.
Critic Reviews for The Entity
Audience Reviews for The Entity
½
Although it is a bit overlong and not exactly scary, this is a decent supernatural film that benefits from a good dialogue and characters that act like normal people in view of the disturbing circumstances they find themselves in, with Barbara Hershey in a strong performance.
Carlos Magalhães
Super Reviewer
Aside from an officious musical score over the workaholic opening credits and some blatantly cheesy lightning special effects, 'The Entity' is a chilling, pumiced ghost story where the poltergeist isn't craving vengeance or old-fashioned mischief. The ghost violates Clara Morgan (Barbara Hershey in a tour-de-force performance) almost immediately within the rushed beginning (no slow-burn plot development here) and the rape sequences gradually become more habitual and skin-crawling. Sidney J. Furie cleverly elects for a rewardingly cerebral analysis of whether the ghost is a psychosexual manifestation of Clara's adolescent wounds from her minister father or a tangible paranormal phenomenon. The unpleasantly irate rape scenes are heightened with a multitude of Dutch angles and a Stan Winston full-frontal body mold for Hershey where her bruised flesh is invisibly caressed by the evil spirit. The pounding death metal percussion in the background by Charles Bernsteinin really crackles. Two university professors in the parapsychology department could be remnants from Tucker and Specs: The Early Years. Ron Silver is the eternal skeptic as the soothing, sensitive therapist Phil Schneiderman. The science wing and Fredian principles clash over the validity of each other's diagnosis. A coda about how the story occurred in 1976 and the real-life Clara is still plagued by the attacks is particularly horrifying. 'The Entity' is Furie's magnum opus and Hershey should've won an Oscar for her haunted exhibition.
Cory Taylor
Super Reviewer
½
The Entity is a supernatural horror film about a woman being tormented by a ghost who attacks and rapes her. Director Sidney J. Furie crafts a harrowing film that is an overlooked genre film, one that delivers genuine chills and is a must see movie for genre fans. This is the strongest directorial effort from Sidney J. Furie who would later helm the Top Gun rip-off, Iron Eagle. By today's standards. The Entity is a well executed movie that has a very good story, horrifying moments that will keep you on the edge of your sea. I was pleasantly surprised with the film, but there are things that really don't hold up. First I felt that the film's story, though very good, could have been a bit more developed. At times, it feels rushed, like the filmmakers were trying to conclude the film as quickly as possible. The other is that some of the effects look dated by today's standards. With that being said, The Entity is a film that has its imperfections, but nonetheless if you enjoy supernatural horror, this is one of the best films of the genre. The film has a good cast and effective performances make this a worthwhile and highly engaging movie that is a well constructed horror film that provides memorable moments of sheer terror. This one may be imperfect in some areas, like I've said, but there are more good things going for this one to make it worth seeing. The Entity is an engaging supernatural ride that uses atmosphere, effects and good performances to tell a standout story. If you love supernatural, ghost stories, then give this film a shot. The film may look dated, but is worth seeing for its sheer sense of atmosphere and good story.
The Entity Quotes
There are no approved quotes yet for this movie.