Epic Movie
(2007)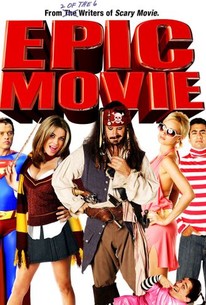 Movie Info
Scary Movie screenwriters Jason Friedberg and Aaron Seltzer join forces to parody the "biggest" movies ever to hit the silver screen in this comedy that gives such popular box-office hits as Pirates of the Caribbean and Chronicles of Narnia: The Lion, The Witch, and the Wardrobe the same treatment that Scary Movie gave to the slasher subgenre. A virtual smorgasbord of spoof, Epic Movie tells the tale of four fully grown orphans: one the victim of snakes that attacked her plane, another raised by a kindly Louvre curator, the third a Mexican "libre" wrestling refuge, and the last an average mutant from an "X"-community. When the curious quartet visits a sprawling chocolate factory, they stumble across a magical wardrobe which transports them to the enchanted land of Gnarnia. It seems that the wondrous fantasy land has recently fallen under the spell of the evil White Bitch (Jennifer Coolidge), and in order to bring peace back to Gnarnia these four bumbling mortals will have to join forces with a charismatic pirate, a painfully sincere group of aspiring wizards, and one particularly libidinous lion.
News & Interviews for Epic Movie
Critic Reviews for Epic Movie
Audience Reviews for Epic Movie
Jason Friedberg and Aaron Seltzer are the worst "directors" to ever tackle the parody genre. Epic Movie is a dreadful mess that is a pure waste of celluloid, and is not worth seeing. The comedy is non-existent, childish, and fails miserably due to a poor script that is so lazily written. Epic Movie is an epic failure. I'm surprised that someone even dared to green lit this trash. This is scrapping the bottom of the barrel and it isn't worth checking out. Every gag fails miserably, as Friedberg and Seltzer try to put as many popular culture references in their films as possible. They seem to think that overdoing that formula is funny, well, it's not. This movie is painful to sit through, and it can be summarized as a pure waste of film, one that is garbage because, the so called attempt at comedy presented here just fails in terms of punch line, and the jokes are immature, stupid and pointless. The film is bland, unfunny and is so poorly acted, that you wonder how this crap finds an audience. I hated this film, and I think it's one of the worst comedies ever put on film. If studios are smart, they'll never let these directors near a camera again because; they're horrible and making films. Who ever gave the go ahead to make this garbage should be ashamed. Epic Movie is horrible filmmaking, and if you want a movie that is pure trash, and definitely not worth your time, this is that film. Epic Movie is not worth seeing. If you want great parody films, check out Airplane! Spaceballs, and Top Secret. However, avoid this one at all costs; you'll be glad you did.
Peter: Tomorrow we fight. So tonight... we party!  "We Know It's Big. We Measured." Words can't describe the painful experience of trying to watch Epic Movie. This movie may have single handedly destroyed the spoof genre. Sure there's been other really bad ones over recent years, but this is easily the worst one I have had the displeasure of watching. There's nothing clever going on here. Just obvious, lowbrow, and immature humor at its worst. The scariest thing about Epic Movie is that the people making it may have actually thought what they were doing was funny. This is no Blazing Saddles. Hell it's not even up to par with Not Another Teen Movie, and I hated that one too. There's no reason for this movie to exist. It's a failure.  The movie is so bad, it almost makes me want to give up on living. Maybe that's slightly extreme, but try to watch this movie and you'll see what I mean. If there's a knife close to you, you'll probably slit your throat. If there's a gun, you'll probably blow your brains out. One of the worst movies ever made, period.
Melvin White
Super Reviewer
½
A comedy is supposed to make you laugh right? I mean, isn't that the basic criteria? Well, this tragic piece of garbage failed to even present a single good joke. It's so lame, stupid and badly timed that it almost put my little brother to tears. The only thing that made it slightly watchable was the wide range of movie references, which a major movie-buff like me could appreciate on some level (although only due to the minor amusement found in the recognition factors, as opposed to any real comical value). Sadly, however, it's still one of the worst movies I've ever seen. I'm just glad I didn't pay to see it, and I feel truly sorry for those who did. Because when all is said and done, Epic Movie is nothing but an Epic Fail.
Epic Movie Quotes
| | |
| --- | --- |
| Narrator: | This is the story of four orphans brought together by fate. They didn't know it yet. But there was something really greater in store for them .... something epic. |
| | |
| --- | --- |
| Samuel Jackson Look-Alike: | I have had it with these goddamn snakes on this goddamn plane! |
| Susan: | Oh, I Know, please help! |
| Susan: | I know... |
| Susan: | Why do you keep saying that |
| Samuel Jackson Look-Alike: | Because internet bloggers love when I say, "I have had it with these goddamn snakes on this goddamn plane!" |
| Susan: | Why are you yelling? |
| Samuel Jackson Look-Alike: | Hey, i'm always yelling! I'm Samuel Goddamn Jackson! |