Equilibrium
(2002)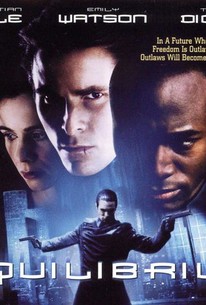 Movie Info
In the nation of Libria, there is always peace among men. The rules of the Librian system are simple. If you are happy, you will be arrested. If you cry, the law will hunt you down. If you read a contraband book or so much as look at a smuggled painting, you've committed a crime. To keep the peace, citizens must take their daily doses Prozium, a powerful designer drug that stops feelings dead and keeps everyone on an even keel. Refuse to take the drug and special police will find you. Up until now, top-ranking government official John Preston has believed in this system, has upheld the system as a highly-trained "Cleric" who seeks out and destroys those who don't take their pills. But then he skips his own dose of Prozium--and discovers an incredible new world of sensation that gives him the passion to fight for freedom.
Critic Reviews for Equilibrium
Audience Reviews for Equilibrium
Unfairly underrated, Equilibrium clearly borrows from The Matrix and classic sci-fi films such as Fahrenheit 451 and 1984 but stands out on its own mostly thanks to the main character's personal emotional conflict and its intense, well-choreographed fighting scenes.
Carlos Magalhães
Super Reviewer
½
First one needs to get over the fact that this steals from a number of other, and yes better, sources. That said and taken on its own merit then - don't look too closely - and this doesn't completely suck. Not totally. Christian Bale grounds the thing, such as it is, but you could make a drinking game over all the loose ends and plot holes. It's only a movie.
Kevin M. Williams
Super Reviewer
A future society that subdues its populace with an emotionally inhibiting drug is enforced by a police force of "clerics" who execute all those accused of "sense crime". Dismissed by most upon its release as just another Matrix clone, there are superficial similarities; stylistically the action choreography and costume design are very similar. There's a lot more going on under the surface however, as it takes cues from the likes of 1984 and Fahrenheit 451 in its depiction of a totalitarian, book burning society and message of individuality and what it means to be human. But by far the biggest difference is in its star; Christian Bale's far superior range makes for a performance that's both emotionally engaging and believable in its depiction of a man suddenly in conflict with everything he had been taught and dealing with emotions he has no experience with. Equilibrium is a very under-rated film in my opinion and is everything a sci-fi movie should be about; style, action, strong concepts and a message about the human condition. More V For Vendetta than The Matrix and definitely worth seeking out if you like sci-fi with a political slant.
Equilibrium Quotes
| | |
| --- | --- |
| John Preston: | I pay gladly. |
| | |
| --- | --- |
| Preston's Wife: | Remember me... |
| | |
| --- | --- |
| Robbie Preston: | Stop that! |
| | |
| --- | --- |
| Dupont: | Do you have any family? |
| John Preston: | Yes, a boy and a girl. The boy's in the monastery, who is studying to become a cleric. |