Erin Brockovich
(2000)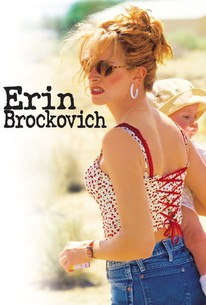 TOMATOMETER
AUDIENCE SCORE
Critic Consensus: Taking full advantage of Julia Roberts's considerable talent and appeal, Erin Brockovich overcomes a few character and plot issues to deliver a smart, thoughtful, and funny legal drama.
Movie Info
Julia Roberts stars in this legal drama based on the true story of a woman who helped win the largest settlement ever paid in a direct-action lawsuit. Erin Brockovich (Roberts) is a single mother of three who, after losing a personal injury lawsuit, asks her lawyer, Ed Masry (Albert Finney), if he can help her find a job. Ed gives her work as a file clerk in his office, and she runs across some information on a little-known case filed against Pacific Gas and Electric. Erin begins digging into the particulars of the case, convinced that the facts simply don't add up, and persuades Ed to allow her to do further research; in time, she discovers a systematic cover-up of the industrial poisoning of a city's water supply, which threatens the health of the entire community. Erin Brockovich was directed by Steven Soderbergh; Julia Roberts earned a $20 million payday for her work on the film, the highest salary paid to a female film star up to that time. ~ Mark Deming, Rovi
News & Interviews for Erin Brockovich
Critic Reviews for Erin Brockovich
Audience Reviews for Erin Brockovich
½
Although marred by a questionable characters and plot points, the film is smart and fluidly directed. Erin Brockovich highlights Julia Roberts in her finest form ever, displaying her charm, charisma and humor in an empowering performance that helps define the tone of this dramatic biopic. 4.5/5
Eugene Bernabe
Super Reviewer
½
She brought a small town to its feet and a huge corporation to its knees. Great Film!!! The element that made Julia Roberts a star in Pretty Woman is very much what carried this movie. Julia's strengths is her ability to play street-wise, honest, and passionate characters. Erin Brockovich is all those things. Steven Soderbergh's Erin Brockovich is exactly the uplift picture you've always hoped for. strong acting, moving script, important issues, legitimate procedurals and best of all it is scrupulously faithful to its true story. The film benefits from the style that Soderbergh brings to it. It glides with the grace that he brought to Ocean's 11 and has the rich colouring that parts of Traffic had. His direction really adds to the film and makes the sum feel a little greater that the parts put together. Overall this may not be the legal thriller that you hoped for and it may move a great deal slower that I thought a Hollywood film would, but it is worth it. The film is patient and worth baring with and Roberts is actually pretty good in the lead! Enjoyable. Erin Brockovich is an unemployed single mother, desperate to find a job, but is having no luck. This losing streak even extends to a failed lawsuit against a doctor in a car accident she was in. With no alternative, she successfully browbeats her lawyer to give her a job in compensation for the loss. While no one takes her seriously, with her trashy clothes and earthy manners, that soon changes when she begins to investigate a suspicious real estate case involving the Pacific Gas & Electric Company. What she discovers is that the company is trying quietly to buy land that was contaminated by hexavalent chromium, a deadly toxic waste that the company is improperly and illegally dumping and, in turn, poisoning the residents in the area. As she digs deeper, Erin finds herself leading point in a series of events that would involve her lawfirm in one of the biggest class action lawsuits in American history against a multi-billion dollar corporation.
Powerful and funny, Erin Brockovich is a must-see film that features a spellbinding, scene-stealing performance by Julia Roberts and a thrilling, well-executed portrayal of a real-life legal case.
Matthew Samuel Mirliani
Super Reviewer
Erin Brockovich Quotes
| | |
| --- | --- |
| Erin Brockovich: | I gave the whole town a blowjob. |
| | |
| --- | --- |
| Erin Brockovich: | Well, excuse me for not going to Law School. |
| Ed Masry: | Law School? At this point, I'd settle for Charm School. |
| | |
| --- | --- |
| Ed Masry: | PG&E is demanding 90. In other words, everybody. Do you understand? This is serious. |
| Erin Brockovich: | And, what, Ed? I'm not serious? |
| Ed Masry: | You're emotional, you're erratic. You say anything, you make this personal, and it isn't. |
| Erin Brockovich: | Not personal? That is my work! My sweat! My time away from my kids! If that's not personal, I don't know what is-- [starts to cough hardly] |
| Ed Masry: | Hey, come on. Come on. Go home. Get well. Because you're no good to me sick. I need you, all right? This case needs you. |
| Erin Brockovich: | Did you tell them that? |
| | |
| --- | --- |
| Theresa Dallavale: | Annabelle Daniels. |