Ernest Goes to Africa
(1997)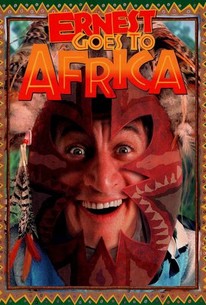 AUDIENCE SCORE
Critic Consensus: No consensus yet.
Ernest Goes to Africa Photos
Movie Info
Slapstick handyman Ernest is in love and wants to buy a bauble for his gal Renee, so he goes to a local flea market and buys a couple of shiny faux jewels. He has no idea that they are real and that they were stolen from a sacred African idol by a crooked adventurer. He also does not know that a villainous Arab prince is impatiently waiting for the stones to arrive. and so he thinks nothing of making the cheap "rocks" into a yo-yo. When the explorer's henchmen discover that the witless Ernest has the jewels, they kidnap him and his girlfriend to the "Dark Continent" where they have all kinds of crazy, comical adventures.
Critic Reviews for Ernest Goes to Africa
Audience Reviews for Ernest Goes to Africa
Just when you thought that he'd been everywhere and done everything, Ernest Goes to Africa. The series is really scraping the bottom of the barrel with this one. The plot is completely convoluted and the characters are all clown shoes. The jokes are obvious and sophomoric, and Varney's heart isn't in any of it. Monotonous tripe, Ernest Goes to Africa is a steaming pile of elephant dung.
Dann Michalski
Super Reviewer
I'm a big Ernest fan and this one was a bit darker for an Ernest movie. But Varney is hilarious. I laugh myself in stitches to see him dressed as a Harem Girl and when he gets kissed by that man. I have to say, Varney doesn't look half bad in false eye lashes and a blond wig. He's just about the only guy I know that can get away with dressing like a woman. Varney also brings out 'Auntie Nelda' who is so funny and a new character, 'Hey, You'. This and one other movie, 'Ernest in the Army' was the last Ernest picture. Unfortunately, Varney passed away just before finishing 'Ernest the Pirate', which I would have loved to have seen. Poor Ernest never got the girl, but I think he could've done better any way. He tried so hard to win her over only to be snubbed in the end. I would've went out on a date with Ernest rather than 'Todd Lavsky'. The only schmo in the movie was Renee for putting Ernest through all that. I would've dropped everything for an African adventure with Ernest. I love the apricot smash and at the end when Ernest accidently smashes the ostrich egg on his head and did the 'ewwwww' thing. He could make some of the craziest faces and still be cute. R.I.P. Jim Varney. You are missed.
Stacy Avary
Super Reviewer
Ernest Goes to Africa Quotes
There are no approved quotes yet for this movie.