Ernest Goes to Jail
(1990)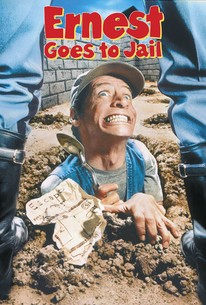 Ernest Goes to Jail Photos
Movie Info
In Ernest Goes to Jail, Jim Varney returns as leering idiot savant Ernest P. Worrall, star of scores of TV commercials and feature films. Varney also takes on a second role in the film: an unrepentant, cold-blooded murderer named Felix Nash. When Ernest serves on the jury for Nash's murder trial, Nash arranges for look-alike Ernest to go to jail, while he stays on the outside to plan a major bank heist. Fortuitously for the criminal, it's the same bank where Ernest works as a security guard.
Critic Reviews for Ernest Goes to Jail
Audience Reviews for Ernest Goes to Jail
I've never been a fan of Jim Varney, and I find his character Ernest P. Worrell to be very irritating. This was the first film that I saw with his character. This is poorly executed comedy and it just doesn't have anything good to make you laugh. I really thought that the film was bad because it lacked anything really interesting from aco0medic point of view. These films just aren't funny and are more irritating than anything. Varney never really made anything good aside from the Toy Story films. His Ernest character is one of the worst things in the genre, and it doesn't make you laugh. Ernest Goes to Jail just doesn't have any memorable laughs going for it and it just relies on stupid humor that doesn't work. This is one of those films that isn't worth seeing, and the comedic material is poorly constructed and it delivers an awful viewing experience that just isn't worth your time. Jim Varney has never made anything really good, and he's one of those actors that is more irritating than funny. I think this is a shame because maybe, just maybe this film would have been worth it if the character would actually be funny and that the film had a good plot with good jokes. However it doesn't have any of those things, and it's an awful comedy that isn't worth your time. Watch something different, you'll be glad you did, Ernest Goes to Jail is a poorly constructed comedy and the results show on-screen.
Dumb, unfunny and poor made, Ernest Goes to Jail it's a terrible experience to watch with bad acting. Jim Varney, sometimes in his carrer show to be a nice actor, sadly, Varney seldom make a good movie, Ernest franchise it's a prove of this. Always classified as a family picture, the movies by the character of TV commercials, looks that was written by a sadist screenwriter with a great love for torture the goofy P. Worrall, and the audience, in scenes that doesn't look like a kids film. Unfortunately, both, Ernest and Felix Nash, Worrall look-alike, doesn't die in the end (with that will be the last picture). Problem: It's even had a end. The writer was so upset with his work that finish the script without a end. Awful and disturbing.
Lucas Martins
Super Reviewer
½
The question isn't why did I watch this film, but instead why did I watch THE ENTIRE THING START TO FINISH? Not funny. Not even stupid funny, though Jim Varney was a terribly underrated actor in his lifetime.
Derek Daniels
Super Reviewer
Ernest Goes to Jail Quotes