Ernest Goes to School
(1994)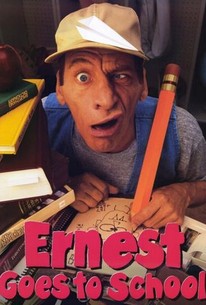 AUDIENCE SCORE
Critic Consensus: No consensus yet.
Ernest Goes to School Photos
Movie Info
In this zany, slapstick comedy, earnest-but-dim high-school janitor Ernest P. Worrell (Jim Varney) becomes much brighter after he tinkers with an experimental machine for boosting intelligence.
Critic Reviews for Ernest Goes to School
There are no critic reviews yet for Ernest Goes to School. Keep checking Rotten Tomatoes for updates!
Audience Reviews for Ernest Goes to School
much better than Ernest Rides Again, that really saying much though. The franchise didn't suffer after the direct to video switch, considering the debacle of Ernest goes to jail. The film was never going to win awards for its storytelling or acting but Varney is likable as ever.
Brendan O'Connor
Super Reviewer
½
Yet another lame and uninspired goofball comedy, Ernest Goes to School is cliched and trite. Now working as a high school janitor, Ernest P. Worrell faces his greatest challenge when, in order to keep his job, he goes back to school to get his dilemma. Bill Byrge returns to the series as Bobby, which is a nice surprise and helps to add some continuity. But Ernest has ceased to be a character and has devolved into a generic, mindless buffoon. And, the comedy lacks any cleverness or wit. Yet it doesn't compare to how hideously awful the acting is. Ernest Goes to School is yet another step down for the series, and marks its transition to straight-to-video.
Dann Michalski
Super Reviewer
It's a Jim Varney 'Ernest' film. Of course, I loved it!! Jim played one of those characters I just love to hate: 'Astor Clement'. But Varney did an excellent job pulling off this hoity-toity, know-it-all character. Ernest is a janitor at Chickasaw Falls High School. The requirement for all employees is that they must be a high school graduate, which Ernest is not. With the help of two scientists played by Bill Byrge and Linda Kash, Ernest gets a brain boost and is suddenly smart in every subject but, unfortunately, he becomes a snooty jerk because of it. 'Astor' begins to alienate his friends and faculty with his holier than thou attitude. When a couple of football players discover what Ernest has been up to, they go in and destroy the brain boosting machine and now Ernest must study like everyone else to pass the test. When he finds out the machine is fixed right before the test, he decides not to use it and do it on his own. He figured out he had it in him all along. He did feel like he let everyone down when he became good old Ernest again and ended up wrecking the half time show by setting things on fire by saying, "I'm sorry I'm me.", which is something he should've never been sorry for. I loved this movie. It shows that with honest, hard work, you can accomplish your goals. In the end, Ernest saves the day. C'mon, it's an 'Ernest' movie. Of course, the underdog is the hero. My school years would've been a lot more fun if Ernest was the janitor. R.I.P. Varney.
Stacy Avary
Super Reviewer
Ernest Goes to School Quotes
There are no approved quotes yet for this movie.