Ernest Rides Again
(1993)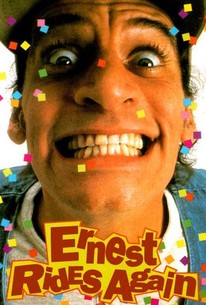 Ernest Rides Again Photos
Movie Info
Ernest P. Worrell (Jim Varney) inadvertently finds the long-missing British crown jewels (the tower of London contains fake jewels, according to the film) after he stumbles over a half-buried cannon from the Revolutionary War on the campus of the university where he works. This dim-bulbed comedy (the fifth in the Ernest film series) chronicles his bungling adventures.
Critic Reviews for Ernest Rides Again
Audience Reviews for Ernest Rides Again
Story is super thin and only a handful of jokes are funny. It's a shame the character was so poorly written as Varney was really great in the lead role. Much like Peter Sellers the formula for the films grew tiring for the audience. Not the bomb Ernest goes to prison was but not far behind it.
Brendan O'Connor
Super Reviewer
Everyone's favorite handyman, Ernest P. Worrell, continues his misadventures in Ernest Rides Again. When an unorthodox college professor advances an unconventional theory about the Revolutionary War, Ernest attempts to help him out by finding a fabled colonial cannon called Goliath. The production values are quite poor and the performances aren't much better. Still, the film delivers a few laughs (intentional and otherwise), and there's some excitement to the pursuit of the cannon. Mildly entertaining, Ernest Rides Again is alright for kids (but there's not much here for anyone else).
Dann Michalski
Super Reviewer
Move over Indiana Jones. Here comes Ernest P. Worrell, our underdog hero. Let me start out by saying this: 'Critics-Schmitics'. Don't let the nay saying critics and reviewers dissuade you from picking up this classic movie. No disrespect, but they obviously don't have a humorous bone in their bodies and don't know how to remove the stick from their butts. I love the Ernest genre and can be biased about Jim Varney but even if I didn't like some of the other Ernest movies, this is a true gem. Listen to me and listen to the critic, Luke Y. Thompson. This was very well written and very well acted and consistent. The opening song is wonderful and describes Ernest to a T. You've got a 5 ton historical cannon named, "Goliath", lots of gun fire, a healthy dose of slapstick by the master himself, Varney, who voices a plethora of characters in top notch form. You have Dr. Abner Melon(Ron James and the 'Vern' of the movie), a meek history professor who is uptight, but thanks to Ernest, learns to loosen up and enjoy an adventure. There is Nan Melon(Linda Kash), Abner's annoying, and overbearing wife and two pesky salesman that finish each other's sentences with perfect timing. Tom Butler(Dr. Radnor T. Glencliff), who has played in various Lifetime movies as a lawyer and all around 'good guy', has the villainous role in this one and is great. He will stop at nothing, even to the point of killing Ernest to get at 'Goliath' and the crown jewels. Comedy ensues as Ernest is the one to find 'Goliath' and takes it for a wild ride everywhere a cannon should not be going. Varney and James play well off each other and this movie couldn't have been cast any better. But unlike some of the other Ernest movies, Ernest seems to have a higher intellect in this one while still being that lovable hayseed we all know. Even if you're not a big fan of the Ernest genre, I urge you to give this one a chance and form your own opinions because, unlike the reviews of some critics, this movie definitely has merit. Not only did Varney bring back slapstick, he did it even better and was/is still one of the best at this brand of humor. As with all Ernest movies, this is free of vulgarity and filth but still a great ride, 'KnoWhutImean?'
Stacy Avary
Super Reviewer
Ernest Rides Again Quotes
There are no approved quotes yet for this movie.