Ernest Saves Christmas
(1988)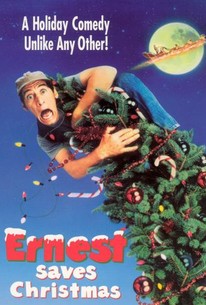 Ernest Saves Christmas Photos
Movie Info
Slow-witted and annoying as all get out, commercial spokesperson Ernest (Jim Varney) is a cab driver in Miami and finds himself squiring a burned out Santa Claus around town helping his search for a replacement so he can finally retire.
News & Interviews for Ernest Saves Christmas
Critic Reviews for Ernest Saves Christmas
Audience Reviews for Ernest Saves Christmas
A perfect Christmas movie that I can watch any day of the year. This is the second 'Ernest' film that I just love. Jim Varney was such a humble, great actor. I've watched all of Jim Varney's movies, Ernest and non-Ernest, but I find myself always going back to Ernest. Jim was destined to be this character and I think 'Ernest' was his true calling. In this, Ernest is a taxi driver, though not a very good driver while singing, "O Christmas Tree" over and over because that's the only words he knew. It's hilarious to hear him sing it. He eventually picks up 'Santa Claus' at the airport, not knowing that that's who he really was. Along the way, Ernest sees a Christmas tree fall off a truck and in true Ernest fashion, he stops the taxi in the middle of the interstate and backs up to save the tree, thus causing car accidents. One of the things I loved was reading the bumper sticker in the glove compartment when Ernest was getting some sunglasses for Santa. "Keep Christ in Christmas". What a good message. During the film, Varney pulls out 'Auntie Nelda', 'Astor Clement' and 'Uncle Lloyd' as the snake guy. He was so funny. I crack up everytime I see the snake guy talk to the security guard. "One minute yer a strappin', healthy man and then, s-s-s-s-s, yer dead meat." I love the pancake scene as it reminds me of one of his commercials, "Pancakes on parade." Ernest helps a young girl see the error of her ways. Lying will get you no where fast. This is one of the rare times that 'Vern' was in an Ernest movie and it was a smart move. Ernest always had the best intentions and wore his heart on his sleeve and even though he messed up sometimes, he would end up saving the day. Hooray for the underdog!! I've always had a soft spot for Ernest and felt quite maternal over him though in reality he was 27 years my senior. Ernest constantly left me in stitches with this movie as with all Ernest movies. This is a Christmas classic and it should be played on t.v. every Christmas. I want to pass my 'Jim Varney' collection to my family and hope they find the joy and strong moral backbone of his movies as I have done. You just don't find many movies today that can make you laugh without the use of sexual comments or foul language. Varney was a true genius. R.I.P.
Stacy Avary
Super Reviewer
ERNEST MY TV BUDDY. LOL I secretly own all the Ernest DVDs.
entertainig and vaguly amusing! woth a watch
Film Crazy
Super Reviewer
Ernest Saves Christmas Quotes