Ernest Scared Stupid
(1991)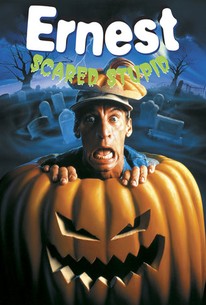 Ernest Scared Stupid Photos
Movie Info
Ernest (Jim Varney) gets into deep trouble when he decides to build a treehouse for the neighborhood kid and accidentally digs up an ugly, evil-tempered troll who hates all children and shows it by promptly turning the five kids helping Ernest into wooden sculptures. This is the fourth entry in the Ernest series and is filled with the goofy humor that has made the films popular with preadolescent kids.
Critic Reviews for Ernest Scared Stupid
All Critics (6) | Top Critics (1) | Fresh (1) | Rotten (5) | DVD (1)
In a perfect world, the kids from THE MONSTER SQUAD would've teams up with Ernest to battle the trolls. Now THAT would be a fun movie!
No, it's not good, but it's kind of likable.
November 24, 2003 | Rating: 3/5
How about a bumper sandwich boogerlips!
February 19, 2003 | Rating: 1/5
Audience Reviews for Ernest Scared Stupid
½
Its so unfunny and stupid that its funny and entertaining. The children actors do a good enough job, and the late Jim Varney is good as the protagonist Ernets P. Worell, and he did manage to get a couple laughs out of me. It also has a great performance from the again late Ertha Kitt who was one of the actors who played Catwoman in the 50s batman show, as well as Yzma in "The Emperors New Groove." Plus the troll effects are pretty good and interesting to look at, and I have to say they're sure as heck better than the troll effects in the "Troll" films. The premise is also pretty interesting, being a monster run amuck film and an idiot having to save the world. Also the running joke with him finding the trolls weakness being milk, and him confusing it for a supposedly fake seasonal stuff called Miak.
Michael Edwards
Super Reviewer
Here's another great movie starring Jim Varney. This is a wonderful movie for the family to enjoy, especially on Halloween. I loved the part when Ernest said, "I sure hope you're from Keebler." I crack up every time. Not only is this a fun movie, but the good family values show through. For instance: when the mother and her daughter have a little fight but the girl turns around and tells her mother that she loves her. Also, near the end of the movie when Ernest realizes that unconditional love was the strongest weapon of all. (Varney is the only one that can convey that child-like innocence.) Of course, kissing Trantor's slimy lips was an 'Ewwww' moment for me as well. Trantor, to this day, is still the ugliest thing I've ever seen. If people can't see the moral content of this movie, they must be blind. I always saw Ernest as a playmate and someone that never aged. I would've given just about anything to work with Varney. Sadly, he is no longer with us and no one will ever be able to duplicate what he did. R.I.P. Jim Varney 1949-2000.
Stacy Avary
Super Reviewer
Probably the flat out weirdest movie I've ever seen. It's epic, completely action packed, and even a bit scary. So, maybe it's not the funniest movie ever, and maybe it's really corny (especially the child actors). But aside from being exiting and entertaining, this film also captures the true spirit of Halloween.
Kyle Fowler
Super Reviewer
Ernest Scared Stupid Quotes
| | |
| --- | --- |
| Ernest P. Worrell: | What good is a wooden dog? Sure, he swims better .. |
| Ernest P. Worrell: | What good is a wooden dog? Sure, he swims better. |
| | |
| --- | --- |
| Ernest P. Worrell: | How about a bumper sanwhich, Boogerlips! |
| | |
| --- | --- |
| Ernest P. Worrell: | I sure hope you're from Kebler... |
| | |
| --- | --- |
| Ernest P. Worrell: | [After kissing troll] Ewwwwwwwwwwwwww! |