Escaflowne: The Movie
(2000)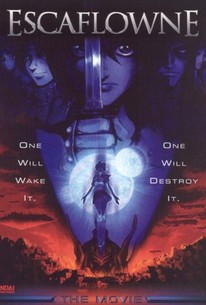 Movie Info
In this animé feature based on the popular Japanese television series, Hitomi is a high school student who is trying to come to terms with a severe case of depression. When her spirits are at their lowest, Hitomi makes a psychic connection with Van, the young king of the nation of Gaia, located on another planet visible in the night sky of Earth. Gaia has been brought to the brink of war by the evil Black Dragon Clan, and, while the nearby nation of Abaharaki wishes to form an alliance with Gaia for their mutual protection, Van is a leader who prefers to act on his own. Hitomi finds herself transported to Gaia, where she becomes a valuable if unlikely ally to Van; as the Black Dragon Clan advances, Van discovers that Hitomi may hold the key to the magical dragon armor of Escaflowne, the weapon that would make Gaia invincible. Escaflowne (also advertised as Escaflowne the Movie: A Girl in Gaia) features Kelly Sheridan as the voice of Hitomi; the voice cast for the American release version also includes Kirby Morrow, Brian Drummond, and Paul Dobson.
Critic Reviews for Escaflowne: The Movie
Audience Reviews for Escaflowne: The Movie
Loved the ending to the OVA but still enjoyed the film, although Folken killed in the way he was just didn't do it for me...
Chris Browning
Super Reviewer
This is a retelling of the anime of the same name, but is sooooo much better. I ~loved~ the ending.
Escaflowne: The Movie Quotes
There are no approved quotes yet for this movie.