Escape From Planet Earth
(2013)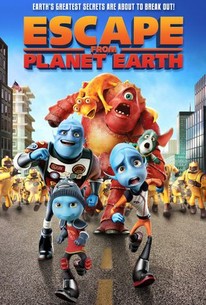 Escape From Planet Earth Photos
Movie Info
The 3D animated family comedy catapults moviegoers to planet Baab where admired astronaut Scorch Supernova (Brendan Fraser) is a national hero to the blue alien population. A master of daring rescues, Scorch pulls off astonishing feats with the quiet aid of his nerdy, by-the-rules brother, Gary (Rob Corddry), head of mission control at BASA. When BASA's no-nonsense chief Lena (Jessica Alba) informs the brothers of an SOS from a notoriously dangerous planet, Scorch rejects Gary's warnings and bounds off for yet another exciting mission. But when Scorch finds himself caught in a fiendish trap set by the evil Shanker (William Shatner) it's up to scrawny, risk-adverse Gary to do the real rescuing. As the interplanetary stakes rise to new heights, Gary is left to save his brother, his planet, his beloved wife Kira (Sarah Jessica Parker) and their adventure hungry son Kip. (c) Weinstein
News & Interviews for Escape From Planet Earth
Critic Reviews for Escape From Planet Earth
Audience Reviews for Escape From Planet Earth
An exciting and thrilling animated feature, Escape From Planet Earth is entertaining and fun. After receiving an unidentified distress call from Earth the planet Baab sends their top astronaut to investigate, but when he's captured by the U.S. military he discovers a nefarious plot against aliens. Featuring William Shatner, Sarah Jessica Parker, Jessica Alba, and Brendan Fraser, the film has a strong cast. Additionally, the comedy is pretty good (even though it does get a little too cartoonish at times). However, the plot is full of cliches; and while some of them work, others drag the film down. Yet despite its flaws, Escape From Planet Earth is a film that can be enjoyed by all ages.
Dann Michalski
Super Reviewer
½
Here's me thinking I missed the latest Snake Plissken adventure from John Carpenter, but actually I didn't miss much at all. I hadn't even heard of this film before, I merely stumbled across the poster one day and it looked quite cool, the title was the eye catcher though, love that. Problem is the films title doesn't really sum up the films plot all too well. A couple of aliens get caught on Earth by some evil military geezer and are held captive in an Area 51 type area...oh wait it is Area 51. There, alongside other captured aliens, they are forced to build this big death ray laser gun thing to destroy planets. Why? because the evil human military leader is evil and wants to...plus the Roswell aliens killed his dad in the infamous Roswell crash. Clever huh? no not really you're right. So as you may have already guessed this CGI animated film contains almost every cliched cheesy cornball sci-fi in-joke and visual gag you can imagine. The entire film is completely pointless in the fact that the whole thing has been done time and time again and there really is no need for this to exist. The main alien characters just look dull, completely dull and lifeless blue cliched aliens. All the alien sidekicks they meet up with are your bog standard array of yet more cliches...a slimy alien, a big strong angry alien and a cute little furry alien, all bases covered. I guess the real crime here (lame plot and character design aside) is the really really average CGI animation. The backgrounds, skies, spacescapes and landscapes all look nice, nothing to blow your eyes from their sockets but they are nice. But in general most of the locations/settings, all the characters, the equipment on display and alien planet terrain/city all look pretty damn generic and bland. Lets just call it planet bland with lots of interstellar alien logos, yep the aliens in this have their own TV stations, sponsors, adverts etc...just like us! its all very crap. The voice cast doesn't boost your moral put it that way, you know to be weary when Brendan Fraser gets the lead role lets be honest. The story is weak and pointless, the visuals are bright and colourful but sorely lacking quality, few laughs to be had, drab characters and rather limp action sequences. This really is a poor man's 'Monsters vs Aliens' in every sense, feels more like a glossy kids cartoon for a dreary rainy Saturday afternoon. Considering this is all about aliens and space adventure its virtually grounded on Earth for the whole run time, not much escaping going on anywhere.
Phil Hubbs
Super Reviewer
** "Escape from Planet Earth" is one of those animated movies that just comes off as a cheap version of a Disney or Dreamworks movie. It's fine for like a straight to dvd movie, but not for a theatrical release(which it got). The animation is ok, nothing great or new, and the voice cast is decent. Brandon Fraser, William Shatner, Jessica Alba, Sarah Jessica Parker, Rob Corddry, among others do an ok with what they can. But they all honestly seem like their going through the motion, knowing this is going to be subpar at best. Overall, the story is just "meh". It's about a hot shot alien who goes to "the dark planet"(aka, Earth) to impress his fellow aliens. When he gets here he is captured and his dorky alien brother must come an save him. It has a few laughs, but overall it's kind of flat. I took my 2 year old(it was showing as one of the "Free Summer Kids" movies), and e seemed disinterested in it for the most part(he usually likes cartoons). This was originally in 3D, and some of it may have looked cool, but I think it's probably just as bland. Worth a one time watch with the kiddos? Sure. But it's probably not something that will be on repeat viewing.
Everett Johnson
Super Reviewer
Escape From Planet Earth Quotes
| | |
| --- | --- |
| Kip Supernova: | When I grow up, I want to be just like Uncle Scorch! |
| Gary Supernova: | Well, time to have another kid. |
| | |
| --- | --- |
| Gary Supernova: | Scorch has been captured! |
| | |
| --- | --- |
| Gary Supernova: | Rescue pods don't self destruct! |
| | |
| --- | --- |
| Scorch Supernova: | (Looking at 7Eleven) It's so beutiful! |
| Scorch Supernova: | It's so beutiful! |
| Scorch Supernova: | It's so beautiful! |