Estranged
(2015)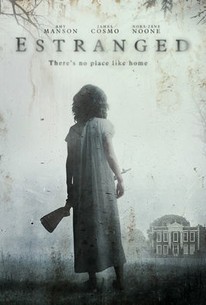 Movie Info
After six years traveling abroad and a near-fatal accident that has left her incapacitated and depleted of her long-term memory. Returning home is the last thing she should do.
Critic Reviews for Estranged
Audience Reviews for Estranged
I always hate when films like have no descriptions, because I feel that, without context, the review does not make any sense whatsoever. And I'm not exactly the best at describing. Anyway, after an accident where a woman loses her memory, she returns to her home after a six-year absence as she struggles to piece together her past. The film might have the look of a low-budget film, but the execution is anything but as it suitably creates tension, showing you that things aren't exactly as they seem in this house and with the people that call themselves her family. The setting of this old mansion gives the film a creepy atmosphere, as you can see, from flashbacks and just the vibe the house gives off, that there's a dark history in this house that hasn't been figured out yet. And it's those mysteries that drive the first half of the movie and there's a good amount of intrigue that builds. I'm not gonna say that the film is entirely unpredictable, because it's fairly easy to figure out what it is that's going on with January's (supposed) family and what it is they're trying to achieve. But it's not really as bothersome when you take into consideration the fact that the movie is actually really skillfully made. Plus, I just find it interesting in seeing how Jan's 'family's' motivations, aspirations, jealousy and vengeance make them do horrific things. Though there are elements of the film that I didn't like. First of all, the house is several miles separated from civilization. And what Jan's 'family' is attempting to do, which is trying to inherit her house, is strange. Strange in that the house is so apart from the rest of the civilization that nobody would really care if they took over the house in the first place. Maybe they're doing it so they can, legally, own the house. But they even bring it up that if something did happen to Jan's (real) father, then nobody in the village would really care one way or another. So why would they care what happens to the house anyway? It's not like it's a flaw, at least to me, but it was just a detail that I felt was unnecessary. I guess it is what drives the family's motivation and it does make them do horrible things to Jan. Plus it helps to push Jan to a point of no return, where her sanity has clearly been affected by the hostage situation she finds herself in. Another thing about the film is that the acting, and this is more of a character-driven thriller above everything else, is really strong. Amy Manson is great here and her deteriorating mental health is one of the film's highlights. I do think there are some scenes where she hams it up, mostly near the ending, but it's relatively minor. James Cosmo is also a highlight here and he has an incredibly imposing and intimidating presence, so he was just perfect to play this type of domineering individual that wants things to be done his way and his way only. The rest of the cast is real good as well, but those two are the obvious highlights of the film. The climax is strong as well, it is violent, when compared to the rest of the film of course, but it's not like this is Hostel-esque violent. I can't really say much about this film, really, I enjoyed it quite a bit. It's not perfect, but it's well-written and well-acted. So I would easily recommend it if you have Netflix. It's a good watch.
Jesse Ortega
Super Reviewer
Estranged Quotes
There are no approved quotes yet for this movie.