E.T. The Extra-Terrestrial
(1982)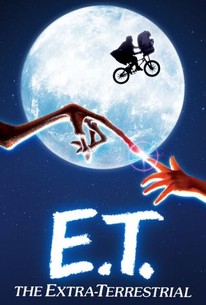 TOMATOMETER
AUDIENCE SCORE
Critic Consensus: Playing as both an exciting sci-fi adventure and a remarkable portrait of childhood, Steven Spielberg's touching tale of a homesick alien remains a piece of movie magic for young and old.
E.T. The Extra-Terrestrial Videos
E.T. The Extra-Terrestrial Photos
Movie Info
Both a classic movie for kids and a remarkable portrait of childhood, E.T. is a sci-fi adventure that captures that strange moment in youth when the world is a place of mysterious possibilities (some wonderful, some awful), and the universe seems somehow separate from the one inhabited by grown-ups. Henry Thomas plays Elliott, a young boy living with his single mother (Dee Wallace), his older brother Michael (Robert MacNaughton), and his younger sister Gertie (Drew Barrymore). Elliott often seems lonely and out of sorts, lost in his own world. One day, while looking for something in the back yard, he senses something mysterious in the woods watching him. And he's right: an alien spacecraft on a scientific mission mistakenly left behind an aging botanist who isn't sure how to get home. Eventually Elliott puts his fears aside and makes contact with the "little squashy guy," perhaps the least threatening alien invader ever to hit a movie screen. As Elliott tries to keep the alien under wraps and help him figure out a way to get home, he discovers that the creature can communicate with him telepathically. Soon they begin to learn from each other, and Elliott becomes braver and less threatened by life. E.T. rigs up a communication device from junk he finds around the house, but no one knows if he'll be rescued before a group of government scientists gets hold of him. In 2002, Steven Spielberg re-released E.T. The Extra-Terrestrial in a revised edition, with several deleted scenes restored and digitally refurbished special effects. ~ Mark Deming, Rovi
News & Interviews for E.T. The Extra-Terrestrial
Critic Reviews for E.T. The Extra-Terrestrial
Audience Reviews for E.T. The Extra-Terrestrial
½
The film's greatest achievement is how E.T. looks so pure and human, with big eyes full of innocence and beauty (although 'human' is probably not the best word to describe him, considering how humans are after all), which elevates this to one of Spielberg's most magical creations.
Carlos Magalhães
Super Reviewer
Charming, magical sci-fi-fairy tale, and a true 80s classic. The excellent child actors carry this film (there is only one adult's face visible for the first 90 minutes), and the E.T. doll was wonderfully convincing for that time and still works today. The message of tolerance and friendship may be naive and predictable, and the melodrama a bit over the top, but it's hard not to lose your heart to this adorable story. A bit slow at times, the magical, exciting showdown speeds things up really well, leading to a heart-warming solution. Adults may grow out of being fascinated by this film, but it will forever be a movie that brings a glow into children's eyes.
Steven Spielberg is one of the most famous directors in the world and E.T. The Extra Terrestrial is one of his most beloved films, which is remarkable considering he has made films like Jaws, Schindler's List, Saving Private Ryan and the Indiana Jones series. In a Californian town, Elliot (Henry Thomas) is a lonely 10-year-old who lives with his single mother (Dee Wallace), teenage brother Michael (Robert MacNaughton) and younger sister Gertie (Drew Barrymore). Elliot is picked on by his brother but one night he finds a strangled alien in his back garden. Quickly Elliot befriends the alien who he calls E.T. and the trio of children both teach and aid E.T. who has telekinetic and healing powers. Soon Elliot and E.T. share a psychic link, but the longer E.T. stays on Earth the more ill he becomes, effecting Elliot. Added to the mix is a mystery government agency is hunting for E.T. Spielberg knows how to manipulate emotions and he certainly does it with E.T. . You feel for both the alien and the children. The characters are well defined, Elliot is the character most children can relate as he is a normal middle child who has intelligence, missing his father and is picked on by his brother. He is decently played by a young Henry Thomas and none of the acting was terrible. I personally like how Michael was portrayed: he is a bully, gets his younger brother to act as a slave and makes fun of him, but he is also protective and when it manners will come good for his younger siblings. The animatronic used for E.T. were top of the range at the time for time and looked really effective, giving E.T. emotion and physicality. I saw the 20th Anniversary DVD version which clearly added some CGI touch ups to E.T. and has the notorious scene where two guns are swapped for walkie-talkies: but it is hardly game breaker because the film is so great. John Williams also gives us another excellent film score, including a very famous signature we all know and love. E.T. is a touching film for good reason and it is a great film for whole family. 9-20-2004
Bruce Bruce
Super Reviewer
E.T. The Extra-Terrestrial Quotes
| | |
| --- | --- |
| E.T. [uncredited]: | E.T. phone home. |
| | |
| --- | --- |
| E.T. [uncredited]: | I'll be right here. |
| Elliott: | (tearfully) Bye. |
| Elliott: | [tearfully] Bye. |
| | |
| --- | --- |
| Michael: | Did you explain school to him? |
| Elliott: | How do you explain school to higher intelligence? |
| Michael: | Maybe he's not that smart. Maybe he's like a worker bee who only knows how to push buttons or something. |
| Elliott: | He is too smart. |
| Michael: | Okay, I just hope we don't wake up on Mars or something surrounded by millions of little squashy guys. |