Eulogy
(2004)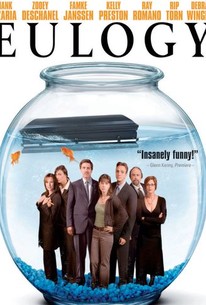 Movie Info
When three generations of a dysfunctional family gather in Rhode Island to bury the family patriarch, members of the Collins clan are at each other's throats in no time. Son Daniel is a secret porn actor, and daughter Lucy is a lesbian. Lucy totes along her lover Judy to the outrage of Lucy's aggressively neurotic sister Alice, whose hysterical overreaction to the pair's marriage plans ought to tell everyone something. Rounding out the delightful crowd are dim brother Skip, whose unfailingly rude twin sons offer caustic commentary on their elders' infantile predilections; matriarchal widow Charlotte, who becomes so justifiably distraught at the insanity of her children she tries to commit suicide; and Kate, a confused but comely college freshman who juggles preparation of the eulogy with internal debate over what to do with her childhood friend-turned-suitor, Ryan.
Critic Reviews for Eulogy
Audience Reviews for Eulogy
A dysfunctional family gathers for the patriarch's funeral. With the characters' convoluted plotlines, even a trite voice over and an awkward framing narrative can't save this film. By the time I figured out who wanted what, who was related in to whom, and what the histories of all of these relationships were, I realized I didn't care about this people and they didn't care about each other. I liked Zooey Deschanel's performance; she seemed at home in the awkwardness, realizing that understatement is key to this kind of comedy. Ray Romano's goofy mustache makes it impossible to take him seriously even in his more dramatic scenes. Overall, this dramedy isn't a waste of time, but it's close.
Jim Hunter
Super Reviewer
Eulogy is one bizarre comedy that brings a lot of laughs. When the patriarch of a dysfunctional family passes on, his family gets together in the same house the funeral and all hell breaks loose. With Eulogy you have a wonderful cast that are all funny in their own way. Eulogy is one of the most original comedies to come along in a while. Eulogy has a terrific cast of well known actors such as Hank Azaria (The Simpsons) and Ray Romano (Everybody loves Raymond) Eulogy takes a sad event and makes it funny. Very funny in fact. This is actually one wacked out comedy film, and I enjoyed every minute of it. The cast did a great job and the story was just so much fun, a dysfunctional family are forced to be together to bury their father and grandfather. What could go wrong? well, everything. it's such a hilarious ride that you can't get bored. At times the film is uneven, but considering the cast involved, Eulogy is a terrific comedy that has more highs than lows. The jokes are great and theres plenty of good scenes. One things for sure, the family in the film have a strange way of being bereaved. I really enjoyed the film because it was a different type of comedy, and one that was very refreshing. Every cast member brought something great on screen, and the laughs kept coming one after another. If you haven't seen this comedy, you should. This film is very good and is much better than most mainstream comedies out there.
Totally cute. Kind of weird when Zooey, known for her quirky roles, was the normal one in this. I thought it was funny and dark. Very offbeat but loveable.
Leigh Ryan
Super Reviewer
Eulogy Quotes
There are no approved quotes yet for this movie.