Eureka
(1984)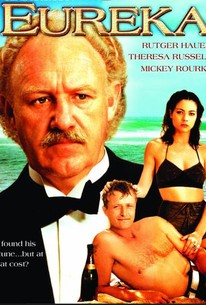 Movie Info
Adapted by Paul Mayersberg from the speculative novel Who Killed Sir Harry Oakes?, Eureka! relies almost exclusively upon star Gene Hackman for its success. Striking it rich in the Klondike, Jack McCann (Hackman) lives high on the hog for 30 years on a tropical island. Though wealthy, he's not happy, fearful that someone will come along and steal his fortune. Things come to a disastrous head when McCann is suddenly beset with unwelcome visitors, including mob hit-man Mayakofsky (Joe Pesci). Theresa Russell co-stars as McCann's daughter Tracy, who has plenty of trouble of her own. The film ends with an elongated courtroom scene that slows Nicholas Roeg's already leisurely pace to a leaden walk. Completed in 1981, Eureka! spent five years in relative obscurity before it was finally given widespread release.
Critic Reviews for Eureka
Audience Reviews for Eureka
½
[font=Century Gothic]In "Eureka" Jack McCann(Gene Hackman) is the ultimate self-made man, having discovered a mother lode of gold, about twenty years before. Now, he is one of the wealthiest men in the world, owning his very own island in the Caribbean. His personal life is not on the same exalted level, however. His wife, Helen(Jane Lapotaire), is an alcoholic. His daughter, Tracy(Theresa Russell), is married to a French emigre, Claude(Rutger Hauer), who Jack severely disapproves of. To add to his troubles, a group of mobsters from Miami are trying to muscle in to build a casino on his land...[/font] [font=Century Gothic][/font] [font=Century Gothic][/font] [font=Century Gothic]Even for director Nicolas Roeg, "Eureka" is an odd movie. The movie throws in too many ideas to properly consider and there is simply too much going on here for it to be considered anything of a success. To start, themes including greed, spirituality and family mix uneasily together while the mobsters sublot needlessly complicates matters. A much simpler approach might have worked as the setting and characters are not without interest. [/font] [font=Century Gothic][/font] [font=Century Gothic]Adding to the strangeness, are Mickey Rourke and Joe Pesci giving the most restrained performances of their careers. Gene Hackman is fine as always.[/font]
Eureka Quotes
There are no approved quotes yet for this movie.