Europa Europa
(1990)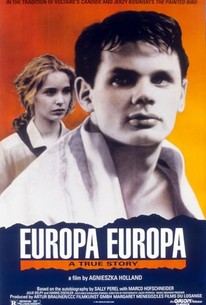 Movie Info
This drama was based on the true story of a young German Jew who survived the Holocaust by falling in with the Nazis. Solomon Perel (Marco Hofschneider) is the son of a Jewish shoe salesman coming of age in Germany during the rise of Adolf Hitler. In 1938, a group of Nazis attack Solomon's family home; his sister is killed, and 13-year-old Solomon flees to Poland. Solomon winds up in an orphanage operated by Stalinist forces; when German forces storm Poland, Solomon's fluent German allows him to join the Nazis as a translator, posing as Josef Peters, an ethnic German. In time, "Peters" is made a member of the elite Hitler Youth, but since Solomon is circumcised, he can be easily revealed as a Jew, and he lives in constant fear that his secret will be discovered. Solomon's close calls include an attempted seduction by Robert Kellerman (André Wilms), a homosexual officer, and his relationship with Leni (Julie Delpy), a beautiful but violently anti-Semitic woman who wants to bear his child for the glory of the master race. Europa, Europa (shown in Europe as Hitlerjunge Salomon) also features the real Solomon Perel, who appears briefly as himself.
Critic Reviews for Europa Europa
Audience Reviews for Europa Europa
A Jew avoids the Holocaust by pretending to be a German translator and subsequently joins the Hitler Youth. I'll give this film credit for an inherently dramatic and compelling idea - a Jew who is forced to hide his identity among people who seek his destruction. But what holds this film back is the performance by Marco Hofschneider. There is only one scene in which I believed the film's plot produced an internal conflict for the protagonist - when the teacher was evaluating his "racial purity." Every other scene was played off so blithely that I wondered if the actor understood the story. In fact, there were several scenes that I wondered whether or not the dramatic situation was being played for comedic effect. And in order to get to the story, there are several quirks of fate, like the protagonist leading German troops to the Russian hideout, that defy verisimilitude. Overall, this is a great idea for a film, but the result is somewhat less than its parts.
Jim Hunter
Super Reviewer
In a stretch of cosmic irony, a true story of a Jewish lad during WWll who finds himself inducted into the Semite-hating Hitler youth. Incredible Forrest Gump-like circumstances happen often and fall wonderously like candy through a hole in the ceiling.
Kevin M. Williams
Super Reviewer
Europa Europa is an incredible autobiography of Solomon Perel that features how a circumcised male reproductive organ can both be an asset and a liability in Nazi Germany, World War II. Outstanding.
Jan Marc Macababayao
Super Reviewer
Europa Europa Quotes
There are no approved quotes yet for this movie.