Europa Report
(2013)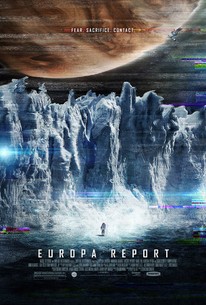 Movie Info
A unique blend of documentary, alternative history and science fiction thriller, EUROPA REPORT follows a contemporary mission to Jupiter's moon Europa to investigate the possible existence of alien life within our solar system. When unmanned probes suggest that a hidden ocean could exist underneath Europa's icy surface and may contain single-celled life, Europa Ventures, a privately funded space exploration company, sends six of the best astronauts from around the world to confirm the data and explore the revolutionary discoveries that may lie in the Europan ocean. (c) Magnet
News & Interviews for Europa Report
Critic Reviews for Europa Report
Audience Reviews for Europa Report
The floating camcorder. I hate it. An active living breathing hate of bile and vomit and shit. So fugging manipulative. An hour plus of set-up which includes some halfass and boring get-to-know-the-cast "jovial" clowning and then the real fun begins. The remainder of the film too shaky, too dark to see anything, overly loud snotty breathing, loads of yelling: "What? What? I can't see! Where is everyone? Help me! HELP! AAAAAAAAAAUGH! What happened? Where is everyone? Help me!" The End. And what? In a supposedly visual medium you've been conned into watching ... nothing. I fugging hate it.
Kevin M. Williams
Super Reviewer
This is basically the Blair Witch Project of space movies.
½
Being released in the same year as the big-budgeted and visually stunning "Gravity" would normally hinder the successful chances of any other film in the science-fiction genre. However, Sebastien Cordoro's "Europa Report" actually manages to find it's own niche and invigoration by relying purely on a strong premise and confidence in it's delivery. It will, most certainly, not pull in the revenue or audience of "Gravity" but it's proof, yet again, that coughing up the green isn't always necessary when venturing into the cosmos. Aboard Europa One, a crew of six astronauts embark on a privately funded mission to search for life on Jupiter's fourth largest moon. After six months all communication with mission control is lost but the crew carry on regardless and discover an unexplained bioluminescence underneath the moons surface. When mission control finally regain contact with the ship, they discover what actually happened to the crew and what the mysterious lighted object was. The first thing that strikes you about this film is it's excellent use of atmosphere and it's foreboding music that captures a suitably sinister tone from the off-set. Even though it's running on a cheaper budget than the aforementioned Alfonso Cauron blockbuster, it still manages a strikingly crisp appearance. The most impressive aspect to it, though, is it's simple yet entirely feasible concept. Europa (Jupiter's fourth largest moon) actually does have an ice surface and scientists hypothesise that there is a water ocean beneath it, meaning extraterrestrial life is entirely possible and it's through this, that screenwriter Philip Gelatt succeeds in relating his story. In bringing Gelatt's story to the screen Cordoro's decision to use the found footage approach not only suits his budgetary constraints but also the the material itself. It plays out like a Nasa documented mission, interspersed with interviews of the crew and in doing so, achieves the desired sense of realism. Having a multinational (and relatively unknown) cast also adds this, much in the same way that Danny Boyle's "Sunshine" benefited from not knowing which crew member will perish at any given time. The found footage approach is so understated that it's easy to forget that the film falls into that sub-genre. It's intimacy also contributes to clever use of tension that builds slowly and effectively and any reliance on CGI is kept to a minimum. Despite some ponderous moments that make the film feel longer than it actually is, the only real issue I had was the payoff: like so many films of this type - particularly in the horror genre - it's when the big reveal is delivered that it falters and detracts from the tension and the unknown, which made the film so strong in the first place. Other than that, this is a highly impressive endeavour and, for the most part, a solid indie science fiction thriller. It won't have you in awe like "Gravity" but it will have you pondering the credible possibilities in our solar system. Mark Walker
Mark Walker
Super Reviewer
Europa Report Quotes
There are no approved quotes yet for this movie.