Eurotrip
(2003)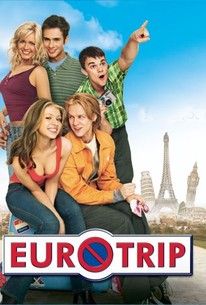 Movie Info
Written and directed by Alec Berg, David Mandel, and Jeff Schaffer, Eurotrip is a teen comedy from the Montecito Picture Company (makers of similar movies Old School and Road Trip). Mainstream teenager Scott (Scott Mechlowicz) forms an online friendship with German student Mieke in order to get a passing grade in his high school German class. When he finds out Mieke is a buxom blonde girl (Jessica Böhrs), he travels to meet her with his pals Cooper (Jacob Pitts), Jenny (Michelle Trachtenberg), and Jamie (Travis Wester). The group of randy teens head to Berlin by way of London, Paris, and Amsterdam. ~ Andrea LeVasseur, Rovi
Critic Reviews for Eurotrip
Audience Reviews for Eurotrip
A pretty funny teen sex comedy full of dirty jokes and bathroom humor. It is nothing special and definitely not supposed to be taken seriously, so just let yourself go with it and you may laugh real hard at its hilarious nonsense and inspired moments.
Carlos Magalhães
Super Reviewer
You don't have to have had a lobotomy to watch this movie, but it would probably help a lot.
Nicki Marie
Super Reviewer
Eurotrip is a pointless sequel to a mediocre comedy. This film has a very bad script, bad acting and directing. The jokes are more crude and vulgar, and most of the time are unfunny. This is a very sorry excuse for a comedy and Eurotrip scraps the bottom of the barrel in term of good ideas. Eurotrip is a rushed film and it's apparent that there wasn't enough thought to deliver a decent comedy. Eurotrip is a poorly stitched together film to make a quick buck off the original, which by today's standards has become quite unfunny in it's own right. Road Trip hasn't aged well, and with the years has become quite boring, I really don't see why they made a second film because this is a plainly yet another lame attempt at trying to mimick the first, but failling miserably, as if it was already a problem. Eurotrip can be described simply as a cash grab. Simple as that. This movie has nothing interesting to appeal to the viewer and ends up being a pointless comedy with strained jokes that try too hard to be funny, but ends up falling flat. Eurotrip is a disappointment that is one of the worst comedies ever made. This is a film that doesn't add anything to the first film and is unrelated. This is just another example of a film that tries to cash in on a successful (but not good) first film. Avoid it.
Eurotrip Quotes
| | |
| --- | --- |
| Jamie: | Do you wanna see my itinerary? |
| Cooper: | Do you wanna see my balls? |
| | |
| --- | --- |
| Cooper: | european ass!! |
| Cooper: | European ass. |
| | |
| --- | --- |
| Donny's Band: | Scotty doesn't know!!!! |
| Donny's Band: | Scotty doesn't know! |