Evan Almighty
(2007)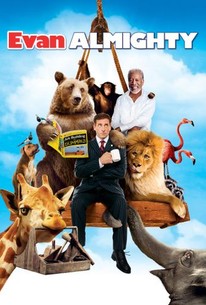 TOMATOMETER
AUDIENCE SCORE
Critic Consensus: Big on special effects but short on laughs, Evan Almighty underutilizes a star-studded cast that includes Steve Carell and Morgan Freeman.
Movie Info
40-Year-Old Virgin star Steve Carell reprises his role as preening newscaster Evan Baxter in this heavenly sequel to the 2003 Jim Carrey comedy hit. Shortly after television anchorman-turned-U.S. congressman Evan Baxter (Carell) relocates his family from Buffalo to Northern Virginia, God (Morgan Freeman) reveals to him that a devastating flood is coming and the planet is about to be cleansed once again. Later, when Baxter accepts the responsibility of building a great ark and his rapidly changing physical appearance begins to draw media attention, his skeptical family attempts to discern if his actions are driven by delusion or divine intervention. John Goodman, Wanda Sykes, Jonah Hill, and Molly Shannon co-star in a divine comedy of truly epic proportions. ~ Jason Buchanan, Rovi
Critic Reviews for Evan Almighty
Audience Reviews for Evan Almighty
Evan Almighy is a big success. It's not the worst movie ever and it made over one hundred million dollars at the box office. Bruce Almighty is better, but Evan Almighty deserves credit. This time around, congressman Evan Baxter has to build an ark before God punishes the world with a flood. Steve Carell did a good job, even though once or twice he got on my nerves. He was pretty funny. I think the funniest parts of the film is when Wanda Sykes is in it. She is made me laugh the most. It kind of amazes me that this comedy can turn into a CGI thriller in a blink of an eye. The effects were awesome, as with most big-budget movies. I recommend this film to everyone. 5 Stars 12-12-07 (Updated)
Bruce Bruce
Super Reviewer
Evan (Steve Carell) meets God (Morgan Freeman) who commands him to build an ark to save people from the flood. His family and colleagues think he is going through a mid-life crisis. This movie is better than Bruce Almighty.
Candy Rose
Super Reviewer
Evan Almighty is the most expensive comedy film of all time. It's effects are superb but it's not worth the money that it cost to make it. The whole sequel was unnecessary in the first place and the jokes were over used and tired. Steve Carell tries to make the film better with an enthusiastic performance but even he cant save this film from the flop flood.
Directors Cat
Super Reviewer
Evan Almighty Quotes
| | |
| --- | --- |
| Evan Baxter: | Sheeeep! Carjacker! Carjacker! |
| | |
| --- | --- |
| Rita: | "Did you just mainline Rogain?" |
| Rita: | Did you just mainline Rogain? |
| | |
| --- | --- |
| Evan Baxter: | come on do the dance |
| Evan Baxter: | Come on, do the dance. |