Evangelion: 3.33 You Can (Not) Redo
(2014)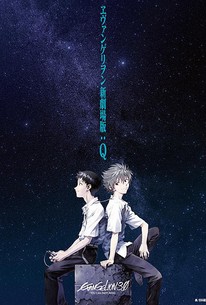 Evangelion: 3.33 You Can (Not) Redo Photos
Movie Info
Shinji wakes after 14 years aboard the battleship AAA Wunder belonging to an anti-Nerv organization founded by former Nerv members. Shinji hears Rei's voice coming from EVA Mark.09, sent to rescue him, so he leaves Wunder and heads to Nerv. Kaworu Nagisa shows Shinji the transformed land. He learns that saving Rei triggered the Near Third Impact that caused the catastrophic damage to Earth.
Critic Reviews for Evangelion: 3.33 You Can (Not) Redo
Audience Reviews for Evangelion: 3.33 You Can (Not) Redo
½
Evangelion: 3.33 You Can (Not) Redo picks up 14 years after where 2.22 left off. Shinji has just awakened from a 14 year sleep inside Eva Unit 01 and the world he once knew and protected has been eradicated, merely rubble with only a handful of people still alive on it. Misato and Ritsuko have abandoned NERV and formed a group dedicated to NERVs destruction, Willie that's primary base is a flying ship called AAA Wunder that is powered by Unit 01's core. They have taken most of the old staff and have new members we briefly meet as well and it appears as though Gendo Ikari and Fuyutsuki along with the EVA pilots are all that remains of a shattered and empty NERV Headquarters. Misato and her group Willie all resent Shinji as he unknowingly brought about the Third Impact and the destruction of the world as it once was. Rei quickly comes to his rescue and after a fierce battle between her and the pilots Asuka and Mari, is able to rescue Shinji from their captivity but Misato refuses to kill Shinji in the short time frame that she has the opportunity to kill him with a collar that can remotely destruct. At the dilapidated NERV HQ Shinji's destined meeting with the new EVA pilot Kaworu, who is a gifted pianist and more importantly a friend to Shinji at a time everyone else is distant towards him. He gives Shinji the will to carry on and pilot the newly designed EVA that requires two pilots, with Kaworu for Shinji to rely on, the two set out to change mankind's fate. While the first two films stayed quite similar to the series original story arc, this third theatrical releases is a completely alternate take and is nothing like the first two films or the series whatsoever. While the original series was both groundbreaking and a profoundly moving artistic vision come to life, a rebuild could go one of three ways. It can be a near replicate of the original with some better effects or grander scale, A new take that ruins the integrity of the original series, or something that is new or alternates that is different but still well executed. What we get in this film, unlike the previous two that were both slightly different but overall just an updated version, is a strikingly beautiful film that is severely muddled in it's ability to tell or convey to the viewer any understandable or meaningful plot points. Where the first two stayed closer to the series story and plot elements, it's the fact that Evangelion: 3.33 You Can (Not) Redo tries to convey an entirely new story arc with a load of new characters and factions as well as many other elements and it does very little in the way of explaining any of this to the viewer. This leaves you feeling completely overwhelmed with visual events and new elements playing out but you have no background or explanation for it's being or purpose, it's origins are completely unknown. While I don't need everything hand fed to me, this technique simply leaves you not knowing how to feel or view anything with great emotional resonance.
Chris Browning
Super Reviewer
Evangelion: 3.33 You Can (Not) Redo Quotes
There are no approved quotes yet for this movie.