Evelyn Prentice
(1934)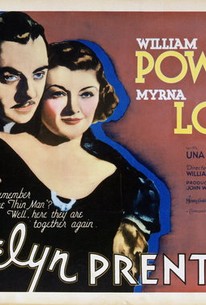 AUDIENCE SCORE
Critic Consensus: No consensus yet.
Movie Info
Filmed between the original Thin Man and the first of its sequels, Evelyn Prentice re-teamed William Powell and Myrna Loy as another husband-and-wife team knee deep in a murder mystery. In this one, Powell is John Prentice, a prominent lawyer with an eye for women other than his own wife. His latest interest is Nancy Harrison (Rosalind Russell, in her film debut), a client accused of manslaughter, whom Prentice successfully defended. Loy plays John's wife, Evelyn, who loves him but is hurt by his inattention and the loneliness that ensues. This leads her to engage in a flirtation of her own, with a charming writer (Harvey Stephens). The writer, however, is interested in Evelyn only for what he can get out of her and threatens to blackmail her. In a panic, she shoots him and runs away, discovering later that he has been found dead and that another woman, Judith Wilson, has been accused of his murder. Hoping that his expert legal skills will the innocent woman her acquittal, Evelyn convinces her husband to take on Wilson's defense. As the film progresses, Evelyn feels increasingly pressured to admit that she is responsible for the man's death.
Critic Reviews for Evelyn Prentice
Audience Reviews for Evelyn Prentice
Very episodic and overwrought drama with Myrna succumbing to the overacting bug at times and Powell rather stiff. The best performances come from the supporting players, Isabel Jewell as a wronged woman and especially Una Merkel who single handedly saves this from total soap opera with her terrific wisecracking. Rosalind Russell made her film debut here but is wasted as a devious society harlot. The ending is too precious for words.
½
Powell and Loy deserve a better movie than this. This drama is predictable and at times boring. I've never been bored by these actors before seeing this movie.
½
Powell plays a negligent workaholic attorney who drives his wife Loy into the arms of a parasitic gigolo, who incidentally winds up dead. Although without just about any comic traces, Evelyn Prentice is good for what it is--a somewhat hammy 30s melodrama with a hint of suspense. Definitely not the Thin Man but nothing to complain (too much) about either. As always Powell and Loy are great together.
Michael Gildea
Super Reviewer
Evelyn Prentice Quotes
There are no approved quotes yet for this movie.