Even Money
(2006)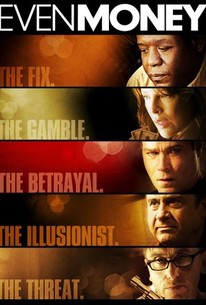 Movie Info
Forest Whitaker, Kim Basinger, Jay Mohr, Danny DeVito, Nick Cannon, and Carla Gugino star in director Mark Rydell's ensemble addiction drama detailing the manner in which gambling and drugs affect a variety of people's lives during the weeks leading up to a championship college basketball game. Carolyn (Basinger) is a struggling novelist whose addiction to the slots drives her to deceive her husband Tom (Liotta). Though Carloyn claims to be working on her latest manuscript at a nearby coffee shop, the reality of her situation is decidedly more desperate. Meanwhile, local maintenance worker Clyde (Whitaker) stands at the sidelines of the basketball court cheering for his little brother Godfrey (Cannon) while keeping his lingering gambling debts a well-guarded secret. In another part of town, the ageing Detective Bruner (Kelsey Grammer) methodically trails malevolent bookie Victor (Tim Roth) as Victor's small-time counterpart Augie (Mohr) patiently waits for his ship to come in. As the big game draws near and casino magician Walter (DeVito) befriends gambling-addicted novelist Carolyn, all of these disparate characters slowly come together on a tragic collision course.
Critic Reviews for Even Money
Audience Reviews for Even Money
½
really good flick. complete all star cast and everyone really delivered. it was cool to see peoples stories intertwined who really had nothing to do with each other and never met, even though they were connected in many ways. it makes you wonder how many people you are connected to that you dont even know exist. there werent alot of redeeming characteristics in some of the characters except maybe ray liota and nick cannons character, but i still felt for some of these characters. this film does a great job of showing the downfalls of money and greed.
Good film, great cast and performances. A standout performance by Tim Roth.
Chosen 718
Super Reviewer
½
I would assume that some big favors were exchanged in order to put together the great cast that this film has for such a horribly weak script. The project must have been portrayed as some type of charity event because it would have cost a fortune if all these folks were paid to be in this stinker. Robert Tannen must be related to someone big in Hollywood, as there's no other explanation for his formulaic, clichéd script to have been given the green light. Don't waste you time...
Even Money Quotes
There are no approved quotes yet for this movie.