Evening
(2007)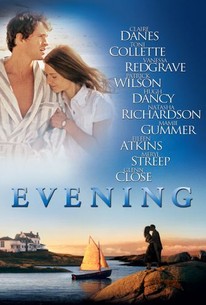 Movie Info
"Evening" is a deeply emotional film that illuminates the timeless love which binds mother and daughter--seen through the prism of one mother's life as it crests with optimism, navigates a turning point, and ebbs to its close. Overcome by the power of memory, Ann Lord reveals a long-held secret to her concerned daughters: Constance, a contented wife and mother, and Nina, a restless single woman. Both are bedside when Ann calls out for the man she loved more than any other. But who is this "Harris," wonder her daughters, and "what is he to our mother?" While Constance and Nina try to take stock of Ann's life and their own lives, their mother is tended to by a night nurse as she journeys in her mind back to a summer weekend some 50 years ago, when she was Ann Grant--a young woman who has come from New York City to be maid of honor at the high-society Newport wedding of her dearest friend from college, Lila Wittenborn. The bride-to-be is jittery and turns to her maid of honor rather than her own mother for support. Ann stays close to her friend, yet is even closer to Lila's irrepressible brother Buddy. Unexpected feelings surge forth once Ann meets wedding guest Harris Arden, a lifelong friend and intimate of the Wittenborn family. Ann's love for Harris will change her life, and those of her daughters, forever.
News & Interviews for Evening
Critic Reviews for Evening
Audience Reviews for Evening
On her deathbed and filled with regret, a woman recalls a brief romance with a doctor while her daughters contemplate their lives. Though the film is slow in places, I found it profound and profoundly moving. Ultimately, it supports domestic life, but it does so by denouncing regret -- a journey that resonates with me. Ann, fading away to her death, wonders how life would have turned out if she had pursued a man with whom she had a one night stand years ago just as her daughter wonders whether to stay with the man who impregnated her; it is perhaps too convenient that these storylines so flawlessly intertwine, but as the stories unfold, I forgot about the convenience and concentrated on the theme. There isn't an outstanding performance in the film, save possibly for Toni Collette as the uncertain daughter, but everyone is solid. I did think that the romance between Ann and Harris should have been more passionate or more deeply connected; as it is, I wonder if a one night stand is really worth a lifetime of regret. Overall, I enjoyed Evening, a poignant drama with timeless themes.
Jim Hunter
Super Reviewer
This kind of made me want to shake someone! Good cast, beautifully shot and acted, (with the exception of the over the top dying mother), really enjoyed it right up until the final ten minutes which just peed me right off. Great message in a movie - mother settles for second best and dies regretting it, then daughter does same (dressed up in Hollywood sentimentality). Lovely. Glad I sat through that one.
Nicki Marie
Super Reviewer
½
this is not a necessarily bad film, but somehow, something was missing - I didn't feel in any way connected to the two daughters (Richardson and Collete), who have "issues" with one another and yet are able to come together when the script calls for it. I found much of the writing to be contrived and certainly not breaking any new ground (except for the concept voiced late in the film by Streep, playing the ageing best friend to the dying Redgrave - who states that are no mistakes in life; and that in the end what will is what will). Many of the emotional moments seemed overwrought - as the scene between daughters where each called out the other's charactor flaws - I just felt it could have been handled much better - the scene seemed like something out of a made for TV movie - all the emotions just so pat - each sister says her piece and then they hug and reconcile - not very realistice. The memory scenes held a bit more sway, but even with them there seemed a certain contrievance that, in spite of some nice dialog, came off flat and in one case in particular (the "next morning" where Glenn Close goes way over the top mourning her son's demise) I was wondering why the scene even existed. The accidental meeting between Harris and the main charactor, even giving credence to creative license (as it was all just a memory anyway), seemed unnecessary and disjointed. Streep, as usual, lit up the screen in what was little more than a cameo role, while Close was totally wasted and the aforementioned scene seemed a vehicle to get her more screen time. Overall, the nice touches (seeing the night nurse in a ball gown) were far outweighed by some overwrought and unnecessary scenes, and an overall sense of falseness - like when the single sister finally announces to her boyfriend that she is pregnant - it should have been cathartic if played well - but it came off as staged and the emotions phony.
paul sandberg
Super Reviewer
Evening Quotes
There are no approved quotes yet for this movie.