Ever After: A Cinderella Story
(1998)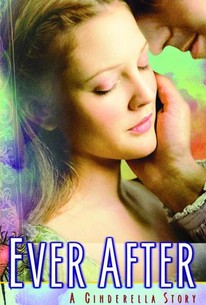 Ever After: A Cinderella Story Photos
Movie Info
Andy Tennant directed this Cinderella variant. The Brothers Grimm arrive at the home of a wealthy Grande Dame (Jeanne Moreau) who speaks of the many legends surrounding the fable of the cinder girl before telling the "true" story of her ancestor. In flashback, the story then focuses on eight-year-old Danielle, daughter of a wealthy widower, a 16th-century landowner. After returning to France with his new wife Rodmilla (Anjelica Huston) and her two daughters, he dies of a heart attack. Ten years later, Danielle (Drew Barrymore) is now treated as a servant by the trio. Fortunately, she has an encounter with Prince Henry (Dougray Scott), who is fleeing an arranged marriage. Later, when Danielle poses as a Lady, the Prince takes an interest in her. Inventor-artist Leonardo da Vinci (Patrick Godfrey), accepting the French court's patronage, offers advice to Prince Henry on matters of the heart. George Fenton's music adds an accompaniment to the lush look of this period romance. ~ Bhob Stewart, Rovi
Critic Reviews for Ever After: A Cinderella Story
Audience Reviews for Ever After: A Cinderella Story
Charming and realistic adaptation. Drew Barrymore is great in this one.
½
I loved this movie when I was younger. It's a great Cinderella story, full of wonder, magic, and romance. The costumes and settings are beautiful. The story is good, and so is the acting. I recommend it.
½
Often lacks the plausibility and seriousness that the premise suggests but the chemistry between Barrymore and Scott just shines with an incredibly well written script. Ultimately it wins us over with it's unrelenting charm and wit. Where Disney's version relied on actual magic and animated impossibilities, the magic in this film comes from it's fun, emotion and uplifting qualities. In the end it's a harmless romance that works through n' through despite the fact that many feel it's merely a re-telling. A well made chick-flick.
Drake Tsui
Super Reviewer
Ever After: A Cinderella Story Quotes
| | |
| --- | --- |
| Prince Henry: | You swim alone, climb rocks, rescue servants. Is there anything you don't do? |
| Danielle: | Fly. |
| | |
| --- | --- |
| Queen Marie: | Choose wisely, Henry. Divorce is something they only do in England. |
| | |
| --- | --- |
| Danielle: | We shall continue on foot. |
| Prince Henry: | But it's half a day's walk! |
| Danielle: | Honestly, Your Highness, where is your sense of adventure?! |
| | |
| --- | --- |
| Danielle: | I am sorry, my mouth has run away with me again. |