Everybody Wants Some!!
(2016)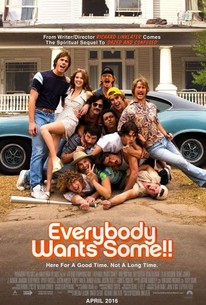 TOMATOMETER
AUDIENCE SCORE
Critic Consensus: Nostalgic in the best sense, Everybody Wants Some!! finds Richard Linklater ambling through the past with a talented cast, a sweetly meandering story, and a killer classic rock soundtrack.
Everybody Wants Some!! Videos
Everybody Wants Some!! Photos
Movie Info
On the heels of his success with the groundbreaking drama Boyhood, director Richard Linklater shifts gears to sports for this comedy about a successful college baseball team that plays hard both on and off the diamond. Blake Jenner, Tyler Hoechin, Wyatt Russell, Ryan Guzman, Zoey Dutch, Will Brittain, and Glen Powell star.
News & Interviews for Everybody Wants Some!!
Critic Reviews for Everybody Wants Some!!
Audience Reviews for Everybody Wants Some!!
½
I have never been one to hide my admiration for director Richard Linklater. I've always found him to be a hugely talented filmmaker and he's always struck me as a very intelligent and savvy individual. Whenever a new project of his arrives, I'm always filled with anticipation, especially one that's been mentioned in the same breath as his indie classic Dazed and Confused. Why is it then, that Everybody Wants Some!! left me with ever so slight feelings of disappointment? This could simply be explained by having very high expectations so for that reason I waited until I watched the film again before making any final judgements on it. Turns out, my opinion didn't change. Everybody Wants Some!! has many great qualities but it doesn't quite hit the heights of its predecessor. Plot: As he enters college in the 1980's, freshman Jake (Blake Jenner) meets his other, hard partying, college baseball players where he learns to navigate his way through the freedoms and responsibilities of unsupervised adulthood. Linklater himself described Everybody Wants Some!! as a "spiritual sequel" to his 1994 indie classic Dazed and Confused. Where Dazed was set in a high-school in the 70's, now we take a look at the 80's and our characters entering their college years. In many ways, it feels like a continuation of the story except for the fact that the characters are no longer the same. This time we're introduced to an assortment (and predominantly male) cast of characters and the camaraderie is almost as infectious as we witnessed in Linklater's earlier film. What's most apparent, however, is Linklater's keen eye for the period and his attention to detail on the style and sound of the 80's is brilliantly realised. As the film is loosely autobiographical, Linklater has a solid handling on the proceedings as he reminisces about his own experiences while being involved in a baseball team in his school years; he captures the competitive nature among young men and fully realises the different personalities from an impressive ensemble. The one glaring omission, however, is the distinct lack of females; with the exception of Zoey Deutch there's really no other female character that has anything to do but be eye candy for the testosterone fueled males. If it wasn't so much fun watching these guys and Linklater hadn't put a light spin on events, then the film would be bordering on misogyny. Thankfully, it manages to escape this pitfall and delivers a hugely entertaining journey where a lengthy 2 hour running time just flies by. Not as accomplished as Dazed and Confused but it has enough style and innocent humour to keep the experience a pleasant one. Who knows, now that Linklater has covered the 70's and 80's, we might well get a 90's version somewhere down the line. He has been known to extend his stories; The Before Trilogy and his Oscar nominated, 12 year project Boyhood were ambitious but hugely successful works. It wouldn't be out of character for him and on the results so far, it would be a welcome completion to a vibrant trilogy. Time will tell. Mark Walker
Mark Walker
Super Reviewer
½
Richard Linklater imagines baseball jocks as nice people in his nostalgic return to early 1970's U.S culture, as we are treated to 3 days with a baseball fraternity prior to the first day of college somewhere in Texas. If you can stomach the opening premise (for this nerd, jocks as nice people is like military intelligence, hard to believe ... and in Texas, no less), the rest ain't entirely so bad. It's a dream scenario of the early '70's presented with a classic rock soundtrack, the past with rose-colored lens set to maximum rose. But don't look too hard, or the flaws of this dream are readily apparent.
Kevin M. Williams
Super Reviewer
½
Like a thematic follow-up to Linklater's Dazed and Confused, this is an irresistible film that captures the energy of youth with a lot of nostalgia. Full review on filmotrope. com
Carlos Magalhães
Super Reviewer
Everybody Wants Some!! Quotes
| | |
| --- | --- |
| Coach Gordon: | You're not in high school anymore. |
| McReynolds: | You're not in high school. |
| Nesbit: | This is different than high school. |
| Finnegan: | This isn't high school. |
| Willoughby: | Hey, this is not high school, man. |
| | |
| --- | --- |
| Coach Gordon: | You're not in high school anymore. |
| | |
| --- | --- |
| Plummer: | There are people here. |
| | |
| --- | --- |
| Finnegan: | Bibliography! Annotated! Highlight! Jake! |