Everyday
(2013)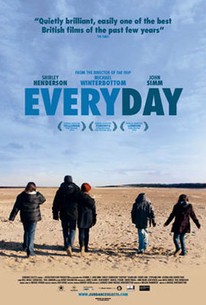 TOMATOMETER
AUDIENCE SCORE
Critic Consensus: It suffers from pacing problems and an uneven screenplay, but Michael Winterbottom's Everyday is also a refreshingly unorthodox and admirably naturalistic take on one family's struggle to stay together.
Movie Info
Karen (Shirley Henderson) is raising four children while her husband Ian is prison for a crime that is never addressed in the film. She juggles the demands of her life as a bartender, a mother and a wife who must frequently travel by train to visit her husband Ian in prison. Their separation becomes increasingly difficult as the children begin to grow and temptations lurk. Still they try to keep things going. Shot over five years at 2 week intervals, the film feels spontaneous, alive and full of off-the-cuff moments. (c) Sundance
News & Interviews for Everyday
Critic Reviews for Everyday
Audience Reviews for Everyday
"Everyday" is the story of Karen(Shirley Henderson) and Ian(John Simm, not playing a time traveler for once), parents of four children. While Ian is serving a prison sentence, Karen takes care of the children while working a succession of low paying jobs. In between, she gets up at the crack of dawn with her children to make the long journey via public transportation to visit him. And that's it for any kind of plot here, except for maybe the subplot about Karen's burgeoning friendship with another man. But that's pretty much all you need in Michael Winterbottom's supremely naturalistic exploration of the hardships of the families of those behind bars in England where at least everybody seems very polite.
'Everyday'. Incredibly intimate and real due to its writing, direction and devotion to time. The score is gloriously melancholy and hopeful all at once. Filming over five years really does bring out the subtle changes, especially in the child actors, adding to the naturalism of it all. Shirley Henderson is fantastic in carrying the emotional weight.
More than any other British film-maker working today, Winterbottom is pushing the boundaries of narrative technique. His latest examines the lives of a family over the course of a father's four year prison stretch. What sets it apart is Winterbottom's decision to shoot it over five years, casting the four young Kirk siblings (two boys and two girls) as the children of Simm and Henderson. The film is essentially based around four prison visits, each roughly a year apart, and seeing the children realistically age adds an extra level of pathos. Most viewers will no doubt find the film's lack of drama infuriating but the performances, (particularly Henderson's), and Winterbottom's subtle direction make it interesting up to a point. Ultimately however it's a much more successful experiment than it is a piece of story-telling. Michael Nyman's score, though a tad too dramatic for the proceedings it accompanies, is quite beautiful.
The Movie Waffler
Super Reviewer
Everyday Quotes
There are no approved quotes yet for this movie.