Everything You Always Wanted to Know About Sex * But Were Afraid to Ask
(1972)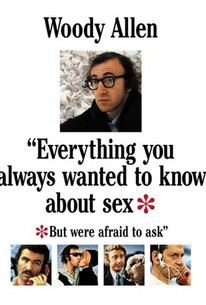 Everything You Always Wanted to Know About Sex * But Were Afraid to Ask Photos
Movie Info
Woody Allen encarna a cuatro personajes en esta farsa sobre las costumbres sexuales contemporáneas.
Critic Reviews for Everything You Always Wanted to Know About Sex * But Were Afraid to Ask
Audience Reviews for Everything You Always Wanted to Know About Sex * But Were Afraid to Ask
An adaptation in name only, this is Woody Allen's collection of seven vignettes concerning various aspects of human sexuality. It's all very silly, and absurd, and some of it is quite dated, but overall, this is a lesser Allen work, but still rather amusing at times. Sometimes the humor feels more like Mel Brooks than Allen, but I don't think that's a bad thing. Several of the shorts seem to be a genre or style parody, and that was fine with me. For example, a segment on aphrodisiacs is done as a medieval/Shakespeare farce. There's a segment that is a take on Italian art films, a game show spoof, and, the two funniest and best bits are a monster movie riff, and a NASA/mission control satire respectively. In the monster movie one, we get a giant breast on the loose (parody of the blob), and in the mission control short, it concerns a man's internal organs functioning as a mission control command center relaying various messages to parts of the body in preparation for sex. This segment features Burt Reynolds of all people as a switchboard operator, and Allen as a sperm having second thoughts about his mission, which is portrayed as a group of paratroopers preparing to jump. That is ridiculously wacky and absurd, but absolutely hilarious. I dug the Italian art film homage as well. Some of the short are kinda blah, and some of this is really dated and rather tame in comparison to some of the stuff we get in today's films and television, but at least the segments are all pretty short with the next one just around the corner. All in all, this film is kinda dumb, and lesser Woody, but I was amused just enough to feel comfortable giving it a very slight recommendation.
Chris Weber
Super Reviewer
im not sure i laughed a single time. i loved the concept, that alone keeps it from the worst of the worst, and the first short was really the only one i can appeal to as genuinely entertaining, but most of the rest of the film was uncomfortably unwatchable.
In this nostalgic trip down memory lane, I'm taken by how much humor in general has changed in the last 40 years. Everything You Always Wanted... bears much in common with a Mel Brooks film "History of The World, Part I" in that several skits are loosely wound around a main theme. The humor is silly, often over the top (but deliciously so), and yet gentle in its manner. Compare that to the recent comic benchmarks The Hangover and The Bridesmaids. Crude, lewd and often mean spirited, these later films love to insult and tend to pander to shock value... I wonder if, in comparing these films from two different eras, I'm not also comparing the society they mirror - products of their times, so to speak - and in making that comparison am acknowledging that perhaps the age in which we are now living is a much meaner one than the early 70's (not that that era was perfect by any stretch). That being said, I probably should go on and review the Woody Allen film; one I remembered as being hilarious but haven't seen in over 30 years. Is this still as funny now as I thought it was then? A resounding yes, and oddly, while some of the over the top aspects made me smile, it was some of the small, throwaway lines, or the mannerisms that gave me belly laughs at my advanced age. For the unfamiliar, EYAWTKAS was a book published circa 1970. A bestseller and really about the first time that sex in all its variations and deviations was publically talked about (you have to recall that the sexual revolution brought on by the free love movement of the hippies was only a couple of years old - and the x rated film was in its infancy at that time). So, you have a best selling book all about sex, sexual taboos and misconceptions - who would have the nerve to create a parody lightly poking fun at the entire enterprise, other than Woody Allen. This period was the zany Allen of Sleepers and What's New Pussycat, not the later more polished filmmaker of Annie Hall onward. Allen uses the book's framework to frolic and just plain have some fun. The jokes are abundant, the skits hilarious for the most part, and overall you have to admit that you enjoyed the ride. From the initial medieval skit where Allen plays a court fool trying for a tryst with the queen (who wears a chastity belt), through a skit where Allen's wife can only be turned on by sex in public (filmed as ultra suave Italian, with funny sub titles), to the hilarious final skit with Tony Randall as the commander of the brain, preparing the body for sexual intercourse, there is brilliance and belly laughs galore. Along the way you have hilarious performances, like John Carradines' lovely self parody of a mad scientist, or Gene Wilder going all gaga eyed over a sheep (seeing a sheep wearing a garter belt still makes me giggle). There's a black and white parody of the old TV show "What's My Line" called "What's My Perversion" where a panel, including a young Regis Philbin tries to guess a contestant's perversion; which includes a commercial for some hair gel product with two manly men in a locker room - as the product proudly stands in foreground at the commercials end you see the two men go for a grope. The filmmaking itself may appear a bit dated, but the humor, is timeless, even while occasionally corny (but funny regardless, as when the Queen falls back unto the bed, trapping Allen's fool beneath her. When the king pulls aside the queens' robes to find Allen he glibly says "well you told me if I was ever in town to look up your wife" bada boom!) If you can't laugh at Allen playing a nervous sperm wondering if it's not masturbation and he'll end up on the ceiling or something, then you need to check and see if you have a pulse. I've seen these skit style films attempted many a time more recently, and none come close to this as far as just plain fun.
paul sandberg
Super Reviewer
Everything You Always Wanted to Know About Sex * But Were Afraid to Ask Quotes
| | |
| --- | --- |
| Sperm: | Woo Hoo! We're gonna make babies! |
| | |
| --- | --- |
| Cowardly Sperm: | "Don't you think you should be ashamed of this? Sexual relations between unmarried people" |
| Cowardly Sperm: | Don't you think you should be ashamed of this? Sexual relations between unmarried people. |