Everything's Gone Green
(2007)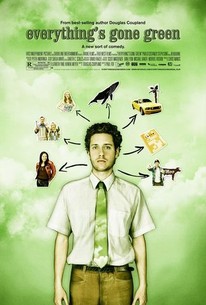 TOMATOMETER
AUDIENCE SCORE
Critic Consensus: Set in beautifully photographed Vancouver, Everything's Gone Green is a winsome coming-of-age tale, thanks to a deft script by Douglas Coupland.
Everything's Gone Green Photos
Movie Info
A slacker edging into his thirties plots a not quite legal get-rich-quick scheme in this satiric comedy written by celebrated novelist Douglas Coupland. Ryan (Paulo Costanzo) lives and works in Vancouver, which has become overrun by runaway Hollywood film crews and folks looking for an easy buck however they can find it. Ryan's unemployed father grows marijuana in his basement, his brother is involved in a real-estate scam that bilks tycoons from Hong Kong who never see the property they only think they own, and Ryan himself is an office drone at a magazine devoted to chronicling the lives of lottery winners. After his girlfriend leaves him for a wealthy yuppie, Ryan falls for Ming (Steph Song), a beautiful Asian woman he meets in a Mandarin language class. Prompted by Ming's desire for a more luxurious lifestyle, Ryan dreams up a scheme to fix the lottery using what he's learned at his job. Adapted from the first original screenplay from Douglas Coupland, Everything's Gone Green received its world premiere at the 2006 Toronto Film Festival. ~ Mark Deming, Rovi
News & Interviews for Everything's Gone Green
Critic Reviews for Everything's Gone Green
Audience Reviews for Everything's Gone Green
½
Entertaining movie about the monotony of everyday life, 9to-5s and the temptation of branching out into socially unacceptable jobs as well as the allure of winning the Lottery (without necessarily knowing the pitfalls). Paulo Costanzo is very endearing, you can't help but root for the guy because he seems so nice. Director Paul Fox understood that not everyone is going to be a millionaire, that sometimes there's nothing wrong with an albeit monotonous but stable job.
Remi Logan
Super Reviewer
½
[font=Century Gothic]"Everything's Gone Green" starts with 29-year old technical writer Ryan(Paulo Costanzo) being dumped by his girlfriend, followed by his being suspended from his job for writing bad poetry on company time. Eventually, he gets a new job interviewing and photographing lottery winners, even after he is late to the interview because of a beached whale where he meets Ming(Steph Song), a winsome set designer. For his new job, Ryan is required to learn Mandarin.(The movie is set in Canada where it is possible people want to learn a second language.)[/font] [font=Century Gothic][/font] [font=Century Gothic]"Everything's Gone Green" is an amusing and insightful satire of materialism and its concomitant conformity that after a frenetic start, eventually settles into a pleasant groove. In the end, money does not mean a thing if you do not have a life and a job you love. Ming is the only character with a satisfying job, working in the burgeoning film industry of Vancouver.(Hopefully, when the extraterrestrials come to this planet, they will realize there is more to earth than just Vancouver and Cardiff.) So, it is amazing how far people will scheme to gain more money, including the purchasing of insane amounts of lottery tickets with little chance of any return.[/font]
It's a bit bizarre but not totally regretful at all to see one's favourite author hit the small and big silver screen. It's strange, he's got a show on the telly, is a successful author and now this...a screenplay turned movie. Enough chatting about Coupland...more of this film...yes? So, it starts out with Ryan who works at a mediocre job doing well 'a mediocre job' until the company finds his poetry on the computer and suspends him for his 'dark images' which they would happily help out by 'paying for a therapist'. Completely, dumbfounded he goes to pack up his stuff and then gets a strange call from his parents. His mother is telling him, 'you've got to come home now!' Hearing shouting in the background he inquires as to what's going on only to hear, 'we've won the lottery! Come home now!' Completely ecstatic he throws his junk off his desk and tells his cubicle-mate to have whatever the hell he wants 'cause he won't need it anymore. When he gets home, his house is in a state of disarray everyone is searching frantically for the winning ticket his father misplaced! Finally, after much searching it comes up and they ring the lottery line to hear that unfortunately they didn't win? To make things stranger, he gets offered a job from the guy on the phone. His brother - scamming the real estate business hooks him up with a building no one lives in, and he sets off for his job interview. On the way over, he hears on the radio of a beached whale and makes a giant detour to check out the scene. At the same time, he meets a girl who ruins his photo-taking skills and the two start talking. After much interesting conversation, he realizes he's LATE for the interview! And scrambles over there as fast as he can, and strangely enough gets the job by just sitting in a chair and smiling like an idiot. If you don't think it's pretty intense already, wait until what happens when he starts working there and all the sort of hijinx he gets up to by just associating himself with certain people. This is truly Coupland, through and through. Poignant, complex [yet simple] and completely profound with the strangest sense of humour. This is a story of how to literally say 'FUCK THE SYSTEM' and then learn...maybe that's too big of an idea for anyone to take on without consequence.
Bannan instant enigma- just add water
Super Reviewer
Everything's Gone Green Quotes
| | |
| --- | --- |
| Ryan: | I think people wanna see something that proves life is bigger than we give it credit for. You know, that there's more to the everyday world than just photocopiers, plug-in air fresheners and bulk grocery shopping. that something huge can just happen out of the blue. |