Evidence
(2013)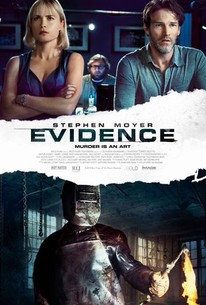 Movie Info
A team of detectives (Stephen Moyer and Radha Mitchell) attempt to piece together what happened at the scene of a brutal massacre using a number of recording devices found at the crime scene. The footage reveals a group of bus passengers who were forced to fight for their lives after they crash in the middle of the desert and a mysterious killer violently murders them one by one. (c) RLJ/Image Entertainment
Critic Reviews for Evidence
Audience Reviews for Evidence
This is a terrible horror movie. It's like they take a shitty found footage horror film and they add a team of detectives watching the video after the fact in order in order to find out who's the culprit and then, somehow, that's supposed to make the film more interesting than it actually is. News flash: it doesn't. It's one of those movies that mumbles, fumbles and stumbles its way until the last act, where they do the flashback reveal of what actually was going on. Or as I like to call it: the Saw ending. If memory serves me correctly, and I've seen every Saw film, I think they did this type of ending in every installment of the franchise. They do the flashbacks and reveal all the details and solve the mystery that, hopefully, invested you in the film's story. This is that type of film. There's one little problem though, this movie is not even interesting or that good to begin with. Despite being a 'slasher' at heart, there's a surprisingly lack of gore in the film. I mean that in the sense that there's implied blood and guts, but you rarely ever see any of it. Like they were too squeamish for their own good. It's not like if the entire film had explicitly shown blood and guts that it would've honestly improved by much, but there would've at least been something that might have been good. The non-found footage scenes with the detectives are pretty terrible and are incredibly poorly shot. The acting is practically nonexistent. There's some good actors here, but you wouldn't know it by how the film was cut together. They just don't the actors and actresses in this film any favors. The way the film is paced is also a problem, it's almost like it's sabotaging itself with how the film is paced. I'm honestly really struggling to come up with any redeeming qualities this film may have had. The found footage style was absolutely dreadful in this goddamn film. Might actually be some of the worst usage of this method that I've ever seen. The glitches themselves are a part of the narrative, and this might actually be one of the only legitimately clever things the film really does, but the fact that it plays a role in the story doesn't make it any less insufferable to watch. If 'shitty usage of found footage' was a phrase in the dictionary, and why the fuck wouldn't it be, this would be the picture next to the definition. Honestly, I can't say it enough. If ever there was ammunition for the 'found footage sucks' people, it'd be this film. It's just terrible. The reveal of who the villain(s) were was also pretty good in that they actually drop hints in there, so it's not like it's entirely nonsensical. Though it does lead to the worst line of the entire film, which also ends up being the last line of the entire film. So they couldn't get that right. They couldn't even use an actually decent twist that well, at least after the fact. It's just so stupid and they, the characters delivering it, decide to deliver this line at the same time, like they were in a fucking infomercial. It was pathetic and laughable. Though more the former than the latter. Now that I think about it, I really hated this movie honestly. Reviewing it has revealed a new disdain and distaste for this movie. This was just the drizzling shits and there's no way I would ever recommend this to anyone. Not even if you're a horror super geek and you must watch any and all horror movies available to you. Awful fucking movie, just dreadful.
Jesse Ortega
Super Reviewer
½
In the desert of Nevada, police uncover one of the most brutal crime scenes they've ever seen. There are a ton of bodies that are so badly mutilated, that they can't even tell if their victims are male or female. There is also an overwhelming lack of evidence, that is except for one small mini-cam found amongst the ruble. Evidence was one of those films that wasn't great, but wasn't terrible either. There is enough going on that you will keep watching it and you will be glad you did! Watching as many movies as I do, I tend to figure things out pretty quickly, and I was sure I had this film figured out early on. As I got to the end of the film, I was sure I knew what happened, and I was somewhat disappointed at the predictable story. Then, the writers throw a huge twist into the plot that you will never see coming and it really makes the whole film. Evidence quickly becomes one of those films that will keep you thinking about it long after the credits role, and too me, that is the best kind of movie. No one of name really stars in this film and there really aren't any stand out performances, it's just one of those movies that stands on a strong story. I usually hate these cheaply made, found footage films. The plots are lazy and they rely on cheap scares and effects to make people jump, but Evidence wasn't like that. The film starts off really slowly, but gets better and better leading up to an ending that no one will ever see coming. If you like a good mystery with that amazing twist in the end, Evidence will delivery exactly what you're looking for.
Todd Smith
Super Reviewer
Lacks style and eleagance and being short of any real character development is a movie disaster but watchable unlike most crap I watch!
Film Crazy
Super Reviewer
Evidence Quotes
There are no approved quotes yet for this movie.