Evidence of Blood
(1998)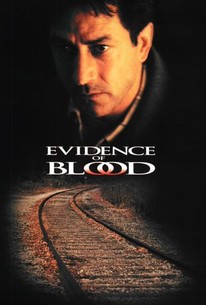 AUDIENCE SCORE
Critic Consensus: No consensus yet.
Movie Info
When a local sheriff mysteriously dies, a world-famous, award-winning crime novelist launches a private investigation.
Critic Reviews for Evidence of Blood
There are no critic reviews yet for Evidence of Blood. Keep checking Rotten Tomatoes for updates!
Audience Reviews for Evidence of Blood
Nothing is more fun to watch than a really good mystery, and for nearly an hour, I thought I'd found one in Evidence of Blood. Films like this one really irritate me, because they are so good, well-written, and thoughtful, until the end. In the end, so many weird things happen, and the film twists in so many different directions, that when it's all said and done, the audience is left scratching it's head. Jackson Kinley (David Stathairn) is a Pulitzer Prize winning author, who returns home to the small town he was raised in. He's come back home, because his best friend, the town sheriff, has been found dead. It's no mystery how he died, it was a heart attack, but the mystery lies in where he was found and what he was doing there. Kinley follows the clues and figures out that the sheriff was close to solving the only murder in the towns history, one that took place nearly 30 years earlier. The story here is textbook, as Kinley finds what his buddy was working on and follows the evidence. The viewers learn what he learns as Kinley discovers it. Nothing is held back, leaving us to think for ourselves and letting us trying to figure out who did what and why. To me, these are the best types of mysteries, because they don't assume the audience is brain dead, and it feels like you're actually out there with Kinley, trying to solve the crime. David Stathairn stars, and has been, and will continue to be one of the most underrated actors in all of modern cinema. When you look at his IMDB page, this guy has been in everything and played some huge roles, but for some reason is always overlooked. Rarely is his name at the top of the marquee, but roles like this prove that it should be. For the first hour of Evidence of Blood, I was in love with this film, but then it got to the end, and everything fell apart. The pace of the movie seemingly triples and a million things are thrown at us at once, making for a very confusing and unsatisfying end to an otherwise great story.
Todd Smith
Super Reviewer
Evidence of Blood Quotes
There are no approved quotes yet for this movie.