The Evil of Frankenstein
(1964)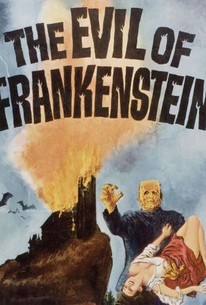 The Evil of Frankenstein Photos
Movie Info
Hardly the best of Hammer Studios' Frankenstein epics, The Evil of Frankenstein is too much the mixture as before to be truly memorable. Back in business once more is Baron Frankenstein (Peter Cushing), who finds his fabled monster (Kiwi Kingston) frozen in a block of ice. Once the creature is thawed out, the Baron, worried that the big lug might develop a mind of his own, engages the services of a hypnotist (Peter Woodthorpe). Instead of keeping the monster docile, the hypnotist decides to use old "Frankie" for his own evil designs, and we're off and running again. At 84 minutes, Evil of Frankenstein was too short for a two-hour network TV slot, so Universal (the film's American distributor) tacked on 13 minutes of pointless additional footage, featuring timorous villagers Steven Geray, Maria Palmer and William Phipps. The film was followed by a vastly superior sequel, Frankenstein Created Woman.
Critic Reviews for The Evil of Frankenstein
Audience Reviews for The Evil of Frankenstein
½
Might be the worst makeup job in the history of horror films.
Randy Tippy
Super Reviewer
½
Just another Frankenstein movie, there's not anything new or different about this one either. It's actually pretty boring. It's not bad, it's just not good or interesting.
½
To start off here, many fellow Hammer fans seem to dislike Freddy Francis' "The Evil Of Frankenstein" of 1964, and, after watching it again recently, I must say that I do not agree. Sure, this third Frankenstein film from Hammer is also doubtlessly the weakest entry to the cycle. But it is the ingenious Frankenstein cycle I am discussing, and even this weakest entry is still highly entertaining and recommendable. The film may have its faults, but, overall, it maintains the Hammer-typical, delightfully Gothic atmosphere, and the great Peter Cushing is, as always, brilliant. The film does not logically begin where "The Revenge Of Frankenstein" ended (and neither do the following sequels). Supposedly, some years have passed and Baron Victor Frankenstein is now making experiments somewhere in the woods, assisted by a young scientist named Hans. After their body-snatching activities are discovered by a priest, the Baron and his assistant are forced to flee to Frankenstein's old home, his castle near Karlstadt to which he was never supposed to return? Sure, the film has its weaknesses. This is the first, and only Frankenstein film from Hammer that was not directed by genius Terence Fisher (I am not counting screenwriter Jimmy Sangster's "Horror Of Frankenstein" of 1970, which I have so far refused to watch since it doesn't star Peter Cushing). While Fisher can easily be considered the greatest Hammer director, Freddie Francis, who directed this one, is only mediocre. The only other Hammer flick by Francis is "Dracula Has Risen From The Grave", one of the weaker entries to the great "Dracula" series with Christopher Lee. Francis furthermore directed several worthwhile films for Amicus Productions, such as "Torture Garden" and "Dr. Terror's House Of Horrors". One of the reasons why some fellow Hammer fans dislike this one is arguably the fact that "The Evil Of Frankenstein" brings us the nicest Baron Frankenstein of the series, which is not a weakness in my opinion, as I have always sympathized with the sinister Baron. Frankenstein was not really a villain in the other films, in my opinion, (except for the fifth entry "Frankenstein Must Be Destroyed", in which he was truly evil), as he did the things he did convinced of doing them for the good of mankind. He gradually gets more obsessed throughout the series, however, which is delightful to watch, and he is not as unscrupulous in the achievements of his goals here. The Baron is not as obsessed in this sequel, but, and that I do consider a weakness, he is also less ingenious. The brilliant and dedicated Baron Frankenstein we know is not supposed to endanger his work, only because he is enraged about the theft of a gold ring, and he certainly isn't supposed to be tricked by a drunk hypnotist who is nothing but a sideshow attraction. In spite of this lack of logic, however, the film is still highly entertaining and shouldn't be missed by a Hammer fan. The atmosphere is, as always, great. The brilliant Peter Cushing is, of course, the film's main quality. Cushing, THE gentleman of Horror, truly is one of the greatest Horror icons of all-time, and while he played in many other ingenious films, it is Hammer's Frankenstein cycle that made him the immortal icon he is. Apart from Cushing, the performances are not too good, only Katy Wilde is great in the lovable role of a mute beggar girl. Peter Woodthorpe and Sandor Elès are decent in their roles, but not especially worth mentioning. All things considered, this is the weakest entry to the Frankenstein series with Peter Cushing, but it is nonetheless highly entertaining Gothic fun that is not to be missed by a Hammer fan. I do recommend the other films over this one though, my personal favorite is the ingeniously deranged fourth film, "Frankenstein Created Woman" of 1967. The entire series is great however, and even this weakest entry is highly recommended
David Ladd
Super Reviewer
The Evil of Frankenstein Quotes
There are no approved quotes yet for this movie.